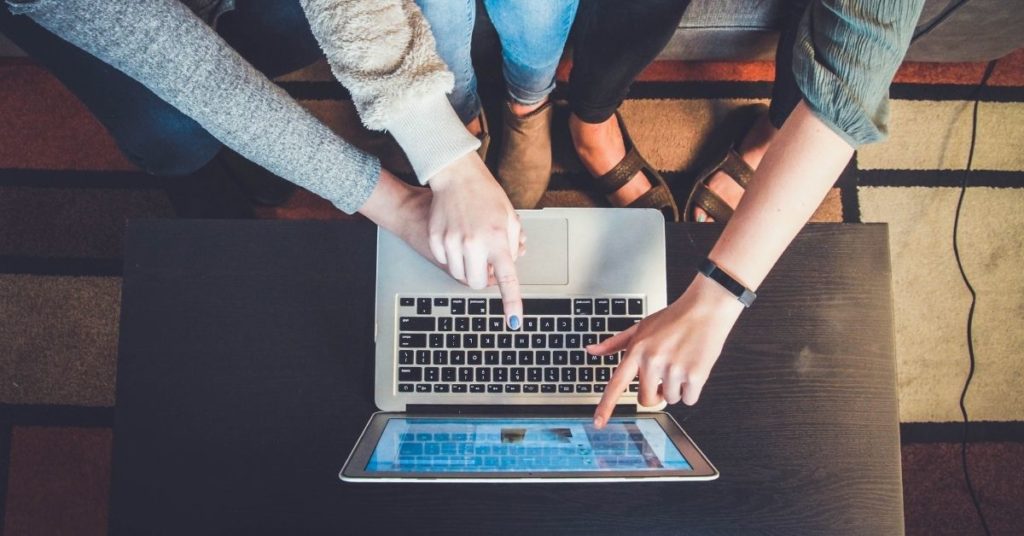 Project Management Institute (PMI) is a world-leading USA based non-profit organization for active professionals in the Project Management Profession (PMP) supported by certifications, research programs, and professional development opportunities.
What is PMI-PMP Certification?
PMI-PMP (Project Management Professional) Certification is an industry-standard highly recognized and accepted globally applicable to all types of industry domains, including Manufacturing, Retail, Marketing, Banking, Finance, Telecom, Healthcare, Information Technology, Pharmaceuticals, and many others. The PMP Certification offered by PMI is the most sought-after certification ranked at the top level with a higher value in the market and is the highest paying certification. PMP validates the candidate if he/she is skilled in managing any project who can help to an organization to solve the problem in the real-time situation that every employer seek with high demand and retaining the candidates and other side knocking opportunities to professional with high perks, hence, more and more working professionals are turning into PMP Certification that provides credibility, proficiency, ability, better job opportunities and focused image project manager in the market. As part of the Project Management Profession, the PMI's best practice is always harmonizing project management process groups, tools, and techniques to keep practicing professionals updated on PMP exam outline, syllabus, project management knowledge, issues, and trends.
It is essential to understand what resources should be available with the individuals and what preparation is required before embarking on the PMP journey. It is all about meeting educational and professional work experience requirements to make yourself eligible for PMP application.
What are the eligibility criteria for PMI-PMP Certification?
As per PMI, the educational qualification and experience requirements required for PMP Certification is that candidates need to have real-world experience at least a minimum of 4 yrs. (4500 hrs.) for an applicant with a graduation degree or 5 yrs. (7500 hrs.) for a diploma holder into Project Management in consecutive years. P.S. professionals don't need to have experience in Project Management; instead, they can be a working professional and should have spent time on leading and directing tasks those are being measured through PMP Exam across the 5 process groups (Initiating, Planning, Execution, Monitoring & Controlling, Closing). The mapping of tasks with 5 process groups as well proportion to PMP exam questions associated with each process group are well documented by PMI in detail and can be found in the Current PMP Exam Content Outline at PMI site which is available to download free from PMI site. It would be helpful to have a fair amount of unique work experience (around eight consecutive years) before you apply for PMP Certification.

PMI also says the professional work experience of the candidate should be non-overlapping. In layman's terms, it means that working professionals are not allowed to count on credit working on two or more projects simultaneously. After gaining experience in Project Management, any working professional from any industry who wants to pursue PMP Certification can enroll in a 4-Day PMP Workshop with PMP Certification Education Providers who are registered with PMI, the one I would like to recommend here is ProThoughts LLP registered with PMP. ProThoughts LLP also helps you to prepare for the PMP Exam to get it clear and achieve 35 PDU (Professional Development Units) contact hours of formal Project Management education that are significantly required to meet the eligibility criteria to appear for the PMP exam. Everything about all these basic eligibility requirements related to PMP Certification set by PMI can be found in the PMP Credential Handbook, which is available to download free from PMI Site.
Once individuals fulfill all the necessary criteria that need to be met for the PMP exam defined by PMI, you can have the PMI membership. It is a mandatory requirement that is vital for the PMP application at PMI Site. Without PMI membership, individuals won't be able to complete and submit PMP applications. So get registered with PMI and set your profile dashboard at the PMI site. The PMI Membership is open to all individuals, and there are no prerequisites. The cost for membership is US$129 plus, while the first-year education cost will be US$10. Because this was your first time joining PMI as a member, the $10 processing fee has been imposed.
As a PMI member, you can access all PMI site contents and even download the Project Management Body of Knowledge (PMBOK) for free. It is a textbook guide document for PMP exam published by PMI which is referred to during the 4-Day workshop by PMP educational providers.
PMP application needs to be filled up carefully; all requested details, including Individuals Name, Contact Details, Educational Details, Project Experience, Organization Details to be duly filled. There are two most important factors to meet the PMP exam eligibility criteria; firstly, you have to state in brief about the project experience with enough information, specifically the work you have done. Secondly, you need to ensure that 35 PDUs Certificate is attached to the PMP application. I would like to suggest here; please review your PMP application from the PMP training Consultant before submitting the PMP application.
Please be careful as PMI verifies the PMP application once you complete your application and get submitted with PMI. During the PMP application verification process, your application could get randomly selected for audit, OR your application will be reviewed, which could take up to 1 – 5 business days. If your application gets picked for an audit, be prepared with the required documents, follow instructions received on email and submit with PMI for a smooth process.
Once your application has been approved, you will receive notification from PMI via email to let you know that your application has been approved, and you will be notified to make payment for the examination. You will also be able to download your completed application from the PMI site with the login credentials that were used to login for the first time on the PMI website.
After the payment process is done, you will receive a copy of your payment confirmation, as well as instructions on how to schedule your PMP exam. Please check your email address for your eligibility and scheduling information.
Tests are administered by PMI, enabling candidates to take the exam online from their place as per convenience. At the PMI site, there will be prompts to schedule your online proctored exam through Pearson VUE. You can click on the "Availability" button to check the currently available dates. Please note that availability is subject to change, and PMI is not able to reserve a seat for you ahead of time.
Before applying for the exam, candidates must ensure they have a system with Windows 10 installed, a fast Broadband/ Wireless connection with good internet speed, and a webcam with good quality audio/video. The candidate needs to sit in a separate room to avoid disturbance during the exam. The following PMI guidelines need to be followed- no break, no looking back or side, no disturbance, no paper pen allowed during the exam. More exam booking information available at home.pearsonvue.com/pmi/onvue.
How does the PMI-PMP Certification exam is conducted?
Before starting, log in to the website to start the Online Proctored process, which will check the system requirement. Candidates should start the process with the access code. An online proctor will take around 25 mins to verify the identity of the candidate and system configuration. Candidates will be asked to take and upload four photos front, back, left, right of your exam workplace, which will be checked by the proctor prior to exam launch; on passing the workplace scanning, the candidate will be permitted to begin with the exam and proctor will monitor candidate continuously by audio and video recording of your face, voice if a candidate fails to follow or is suspected of cheating or tampering with Pearson VUE's. If any wrongdoing is reported, this will be immediately reported to Pearson VUE, and PMI along with Audio and Video evidence and the candidate will be terminated. Besides, the PMI may take action to revoke your existing certification and all future participation in the PMI certification program.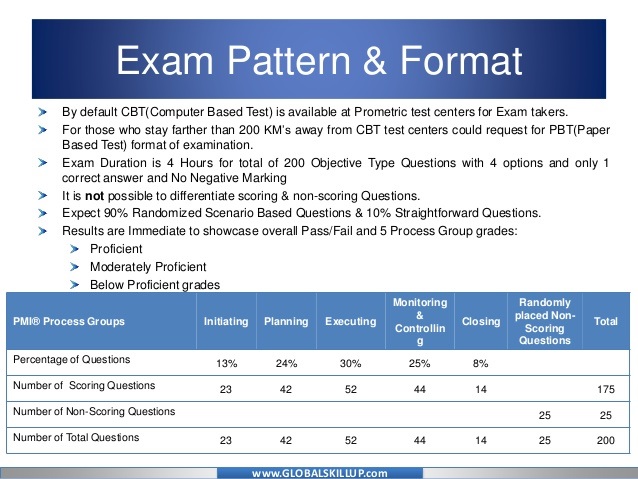 PMI supervises the PMP exam. The total duration of the PMP exam is 4 hours covering 200 multiple choice questions format. There is no negative marking for wrong answers. You can also mark questions for review and revisit them at the end. Out of the 200 items, 25 questions are pre-test questions and are not counted in the final score, and you will not be communicated about these questions while the remaining 175 questions are the scored questions. However, you should attempt all the 200 questions in the given time.
PMI grades students on each of the five process groups and assigns grades of Needs Improvement, Below Target, Target, and Above Target in each of the five process groups.
I would like to provide the PMP preparation tips for how to prepare for the PMP® credential examination, review the things PMP credential handbook, PMP Exam Content Outline, the latest edition of A Guide to the Project Management Body of Knowledge (PMBOK® Guide), PMP Sample Questions document, current titles in project management. Enroll in a formal study course offered by PMI chapters or Registered Education Providers (R.E.P.s). Form a study group with colleagues or friends. (You can meet in person or virtually.)
When taking the exam, PMP allows candidates to take the exam thrice and successfully obtain the credential within the one-year eligibility period. To receive a new eligibility I.D. and schedule your original exam, please submit payment for the re-exam.
The major updates to the sixth edition are summarized below:
There are five process groups, ten knowledge areas, and 49 processes.
A new chapter on the project manager's role has been added to focus on leading projects effectively – competencies, experience, and skills that are all necessary.
Two Knowledge Areas have been renamed to more accurately reflect which elements can be managed and which cannot:
Time Management is now renamed as Schedule Management; Human Resource Management becomes Resource Management.
Every Knowledge Area features four new sections
1. Key Concepts
2. Trends and Emerging Practices
3. Tailoring Considerations
4. Considerations for Agile/Adaptive Environments
The sixth edition will also present new content around considerations for agile/adaptive environments and the PMI Talent Triangle®.
PMP Credentials are valid for 3 yrs. from the date obtained and can be renewed for the next three 3 yrs. and so on. Over the 3-year period, PMP certified professionals must have to acquire 60 PDUs while maintaining the 60 PDUs at PMI Site to be eligible to renew the PMP Certification. The PDUs can be acquired in many ways, including Webinar, Writing Blogs, Conducting Session into Project Management Domain, Share Knowledge, Volunteer and Join Community, etc.
This helps professionals to expand horizons into the Project Management Domain while growing professionally and personally.