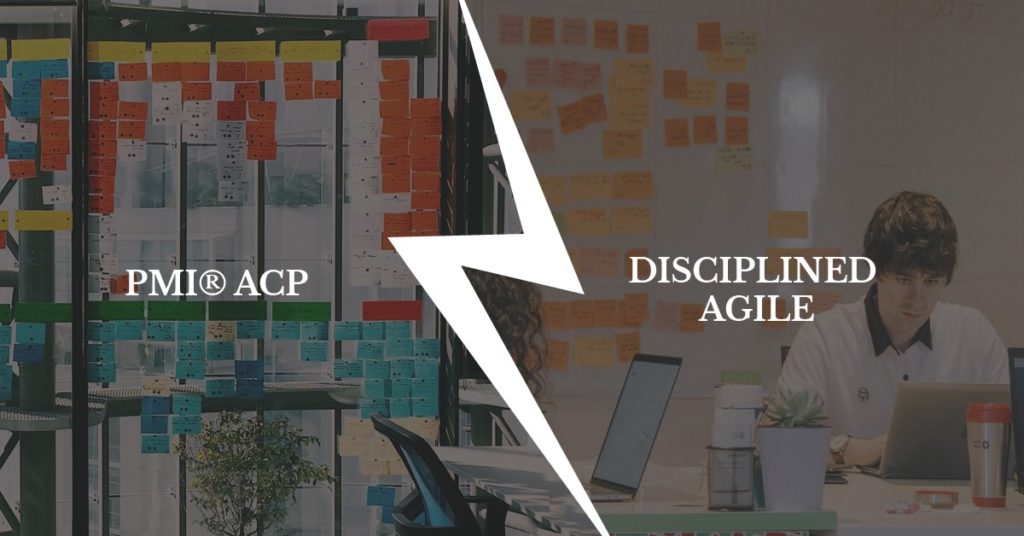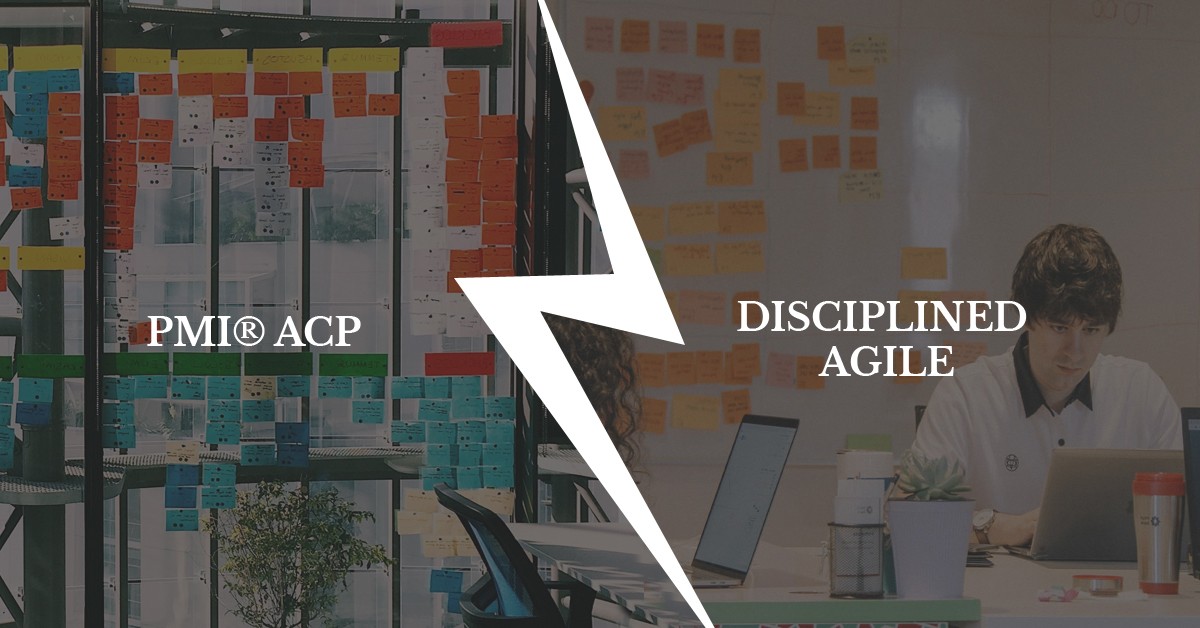 Agile is a vast landscape and over the years, since it started, right from 2001, has grown into a multitude of practices and methodologies. If you see the landscape prepared by the popular Deloitte Consulting firm, you can see almost 100 practices of Agile and for a beginner in Agile, it is too overwhelming.
It is too crowded a landscape. Recently, we at ProThoughts, have been approached by a mammoth organization, and one of the ideas they were exploring ways to be an agile organization. They wanted to transform into a nibble organization and bring "Business Agility' for their customers. Being a mammoth organization, a lot of many stakeholders and a lot many opinions surfaced. As we started working on the assignment, we got many of the stakeholders interested in the Agile way of working and of course, people also started exploring on their own. Someone from the organization got a hand on this Agile landscape, which is so popular on the internet. OMG! There are so many things to doing Agile and we are focused on only a few things – was the instant reaction. Rather than getting enlightened by looking at the Agile landscape (Check the Landscape below), they got scared – what is the right thing to do? Are we going on the right path, are we doing the right thing – it is going to be a long journey, so many questions and there were no exact answers. As they started exploring, more information came to light and they became more and more confused.
Welcome to the world of Agile. Does one solution fit you – why there are more things to Agile?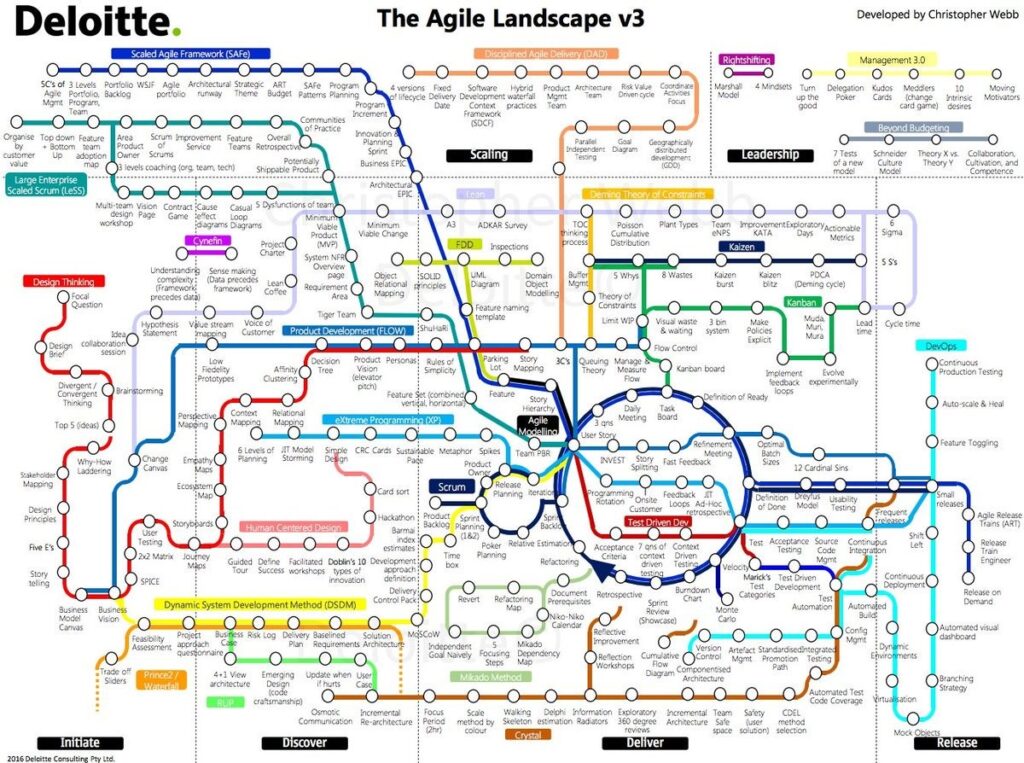 Can you determine which approach suits you? It is a mental paradigm shift called for, are you aware of what consequences does this have for the company – both on the organizational and the cultural level?
Before exploring into Disciplined Agile and PMI-ACP, 2 of the most popular certifications (PMP is of course there) from PMI and the topic for consideration, let's understand some key terms so that we can understand the positioning of PMI ACP and Disciplined Agile, and what they intend to do.
The Agile Manifesto does not prescribe any specific methodology; it provides a set of values and principles on which agile methodologies are based.
We often talk about methodologies, practices, tool-kits, techniques – use many terms. But I guess many aren't sure what exactly they mean by that?
So, what exactly is the methodology?
A Methodology is a set of ideas or processes or procedures followed over and over to provide or deliver a known result, such as completing a specific project.
The methodology is a repetitive thing that has given you the results. A methodology is particularly unique to you or your team, and have proven successful to the team in question, in that particular context or situation. Isn't it?
Practices – These are specific rules and guidelines to follow during the course of undertaking and managing projects. So, practices are followed by others and these guidelines work universally well and proven to help you succeed with your projects.
A Tool-Kit enables us to make decisions using the Agile practices for Better and Effective Outcomes
So, a tool-kit is an enabler and leverages the various practices to deliver effective outcomes. Most of your software products/automation are tool-kits that enable you to deliver better outcomes.
Knowing all the above, I would make the following statement:
Practice + your adoption (set of rules) = Methodology
Yes, Practice along with your tailoring the practices, guidelines, or processes, as you gain mastery over a period of time, becomes your methodology. This enables better outcomes in your context. The Tool-kit if used properly will enable you for much better outcomes in a much quicker time.
And today's environment values time isn't it?. The quicker you deliver the right thing (Value) the better you are, on your road to Agility. The sooner you deliver value in a cost-effective way makes you or your organization Business Agile.
Having understood the context of practices, methodologies, and tool-kits, along with the Agility and Agile landscape, let's try to navigate to our main topic which is PMI-ACP and Disciplined Agile.
PMI-ACP (Agile Certified Professional)
PMI-ACP was formally launched by PMI in the year 2012 as PMI's entry into the Agile space. At that time, Agile as a concept was still waking up and the Scrum Alliance's Certified Scrum Master (CSM) and Scrum.org's CSP (Certified Scrum Professional) were the popular choices.
Compared with other agile certifications that were based solely on training and exams, the PMI-ACP is evidence of your real-world, hands-on experience and skills. The PMI-ACP was a difficult one to be earned, as compared to the existing certifications at that time and it required a good understanding of practical applications and hands-on experience.
The PMI Agile Certified Practitioner (PMI-ACP) formally recognizes your knowledge of agile principles and your skill with agile techniques.
ProThoughts provide the PMI-ACP Certification program online with its interactive game-based methodology and Mike Griffith based superior material. You can explore more about PMI-ACP here.
PMI-ACP Certification talks about the various practices which can be applied in your workplace and do not restrict yourself to one practice or a method. It opens on different popular practices and clarifies their advantages and disadvantages. As a practitioner of Agile, you, therefore, know the drawbacks and positives of different practices, and you do not restrict to one practice as the sole practice to implement Agile.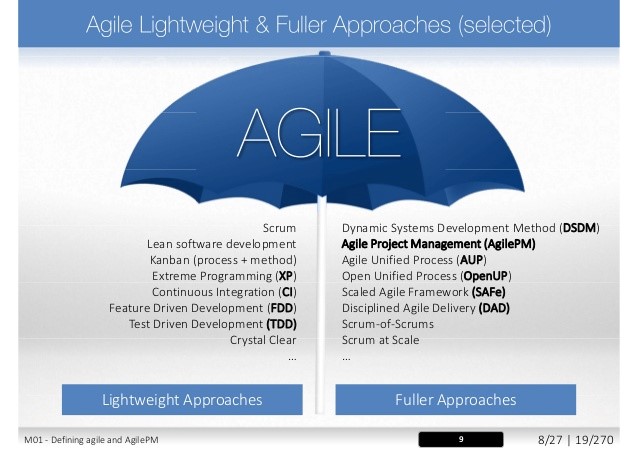 Further PMI-ACP goes further deeper, and provides you guidelines on how to implement Agile for your projects. It explores various alternatives and explains in details about Agile practices and implementing in your workplace.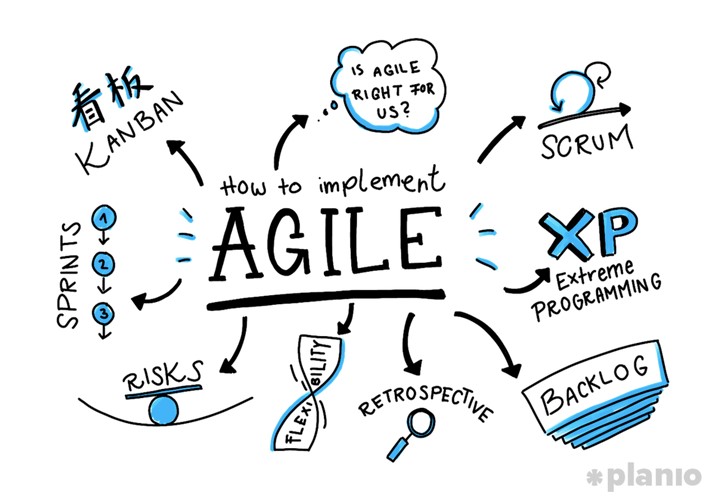 The PMI-ACP explores Agile by navigating through the 7 domains and uses 12 reference books suggested by PMI® to assimilate the information to make it a wholesome Agile experience.
The 7 domains used in PMI-ACP are as follows:
Agile Principles and Mindsets
Value-Driven Delivery
Stakeholder Engagement
Team Performance
Adaptive Planning
Problem Detection and Resolution
Continuous Improvement
By attempting the PMI-ACP exam and becoming a certified professional of PMI-ACP, you are well recognized in the industry as an Agile practitioner, who has inculcated an Agile mindset and understands Agile to implement in the organization.
PMI-ACP gives you the necessary knowledge to enter the world of Agile. However, you are NOT considered to be an expert in Agile. PMI-ACP familiarizes at the best with Agile and makes you confident to implement Agile.
Disciplined Agile
Disciplined Agile is a new concept introduced in the market in 2012 but recently acquired by PMI in 2019 and launched it again in 2020.
Disciplined Agile, unlike other Agile offerings, is not a practice, but a tool-kit which leverages other practices to provide the right guidance, in the context you are operating.
Further, Disciplined Agile does not restrict to a team but designed to bring Business Agility for the entire organization. Essentially, unlike other Agile certifications and even PMI-ACP, it is designed for the team and the entire enterprise.
Disciplined Agile brings a new wave of thinking. Agile since introduced as a concept (i.e., 2001) has witnessed a lot of changes, and a lot many practices and methodologies have evolved. Thus, this landscape has become very huge as pointed out earlier. Further, the idea of doing agile is not only, done by the team but also the business or organization has to become agile and that's what is truly agile. Agility as a concept has to make the enterprise agile rather than a handful of people in the organization.
One practice says Scrum may not be sufficient for a single team as they evolve their way and try to become more efficient. They need to improve and continuously new ways to their road of WoW (Way of Working). And that's essentially why there are so many practices in place.
Disciplined Agile recognizes this fact and what it has done is the heavy lifting of studying all the appropriate practices and choosing what is relevant, given the situation or the context. This helps the team to focus on the work to be done rather than the administrative tasks of figuring out which are the processes and practices to follow.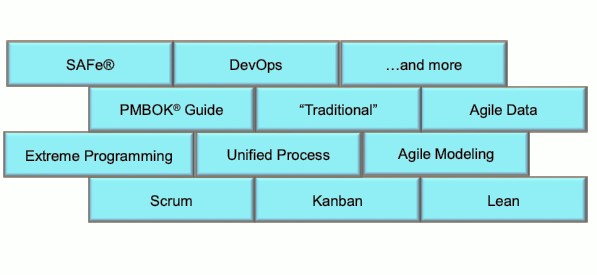 Disciplined Agile is, therefore, a tool-kit. To give an analogy, Disciplined Agile is like a very experienced Agile coach who provides the right guidance, given your unique situation, and helps to succeed early in your projects. Isn't this Agility?
To achieve this, Disciplined Agile talks about 8 principles and how they interrelate with each other. Further, they explore the 8 principles in the given context and understand how useful it is for the Agile teams.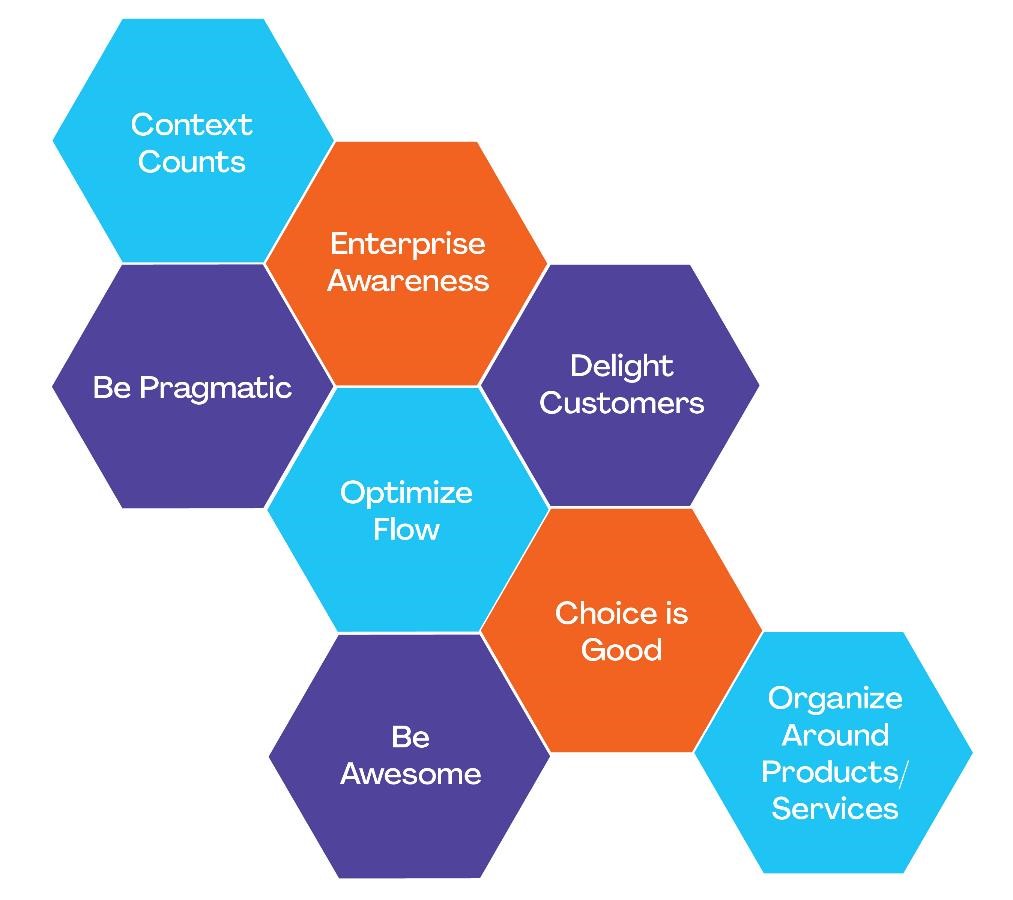 Disciplined Agile talks about a variety of things – Different Lifecycles right from the prescriptive Scrum to Lean to Program to Exploratory to Continuous Scrum and Continuous Lean. It talks about Organization Capabilities (Process Blades) – To become truly agile, it is not only your team but different capabilities in the organization such as IT, Operations, Sales, Marketing, etc. which also need to inculcate Agile practices and strategies. Also, it talks about Process Capabilities which helps guides to make decisions with proper considerations in the context of the given situation. It talks about many new ways of implementing Agile and makes your team Agile and in turn, eventually, your enterprise Agile.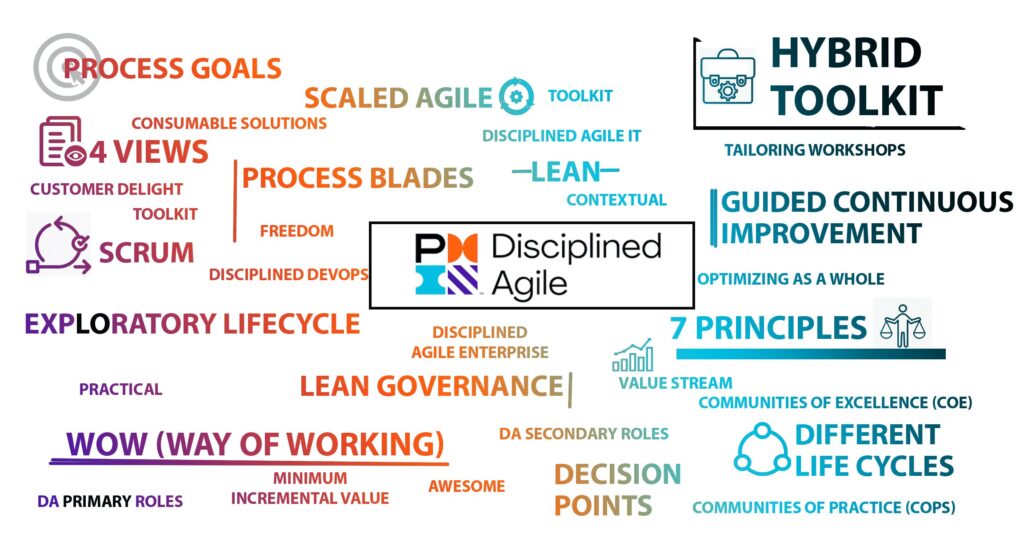 Disciplined Agile is designed to evolve the WoW (Way of Working) – to make your teams better and effective in their outcomes over a period of time. The focus is to get there sooner than later and the tool-kit will help you to better the outcome successfully.
Disciplined Agile brings a new wave of thinking and looks very practical for an Agile practitioner to implement. Disciplined is a completely new world and is vast in itself, and you need to traverse a journey from beginner to an expert to achieve mastery in Disciplined Agile.
With the high-level understanding of Disciplined Agile and PMI-ACP certifications, let's look at both these certifications in a nutshell.
| | |
| --- | --- |
| PMI-ACP | Disciplined Agile |
| Apple | Orange |
| Implementing Agile with Practical Experience | Tool-Kit to Implement Agile |
| Project Focused | Business (Enterprise) Focused |
| How Agile needs to be implemented with different practices and methodologies | Provides Options and Guidance to provide Business Agility |
| Is Part of Disciplined Agile | Disciplined Agile covers ACP |
If you can see the above diagram, we cannot compare the 2 – PMI-ACP is a part of the big umbrella of Disciplined Agile. It is like comparing apples with oranges. Both are designed to deliver a specific outcome; however, Disciplined Agile is geared to bring Enterprise Agility and that's the main purpose for any organization to take up Agile. Disciplined Agile is more wholesome, geared towards every situation as you encounter in your Agile project. PMI-ACP addresses possibly a part of this huge world that Disciplined Agile is trying to address.
If you see the journey for Disciplined Agile and PMI-ACP, PMI has not disappointed the existing credential holders for PMI-ACP and included PMI-ACP as part of the Disciplined Agile journey.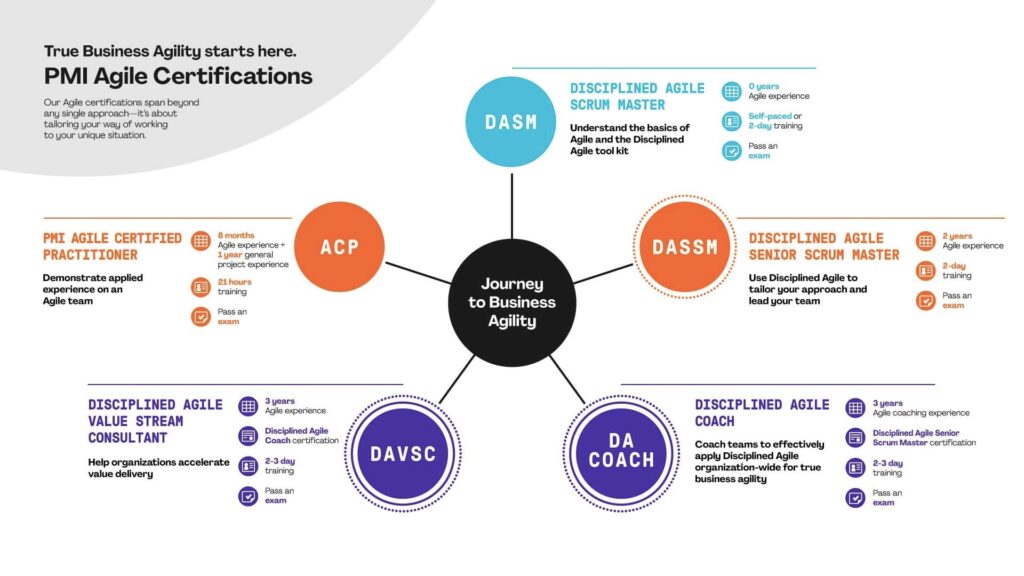 This is the new journey for Disciplined Agile announced in Sept '20 and likely to stay for a couple of years.
In a nutshell, Disciplined Agile is suggesting that the entry-level to enter the world of Disciplined Agile is DASM Certification (Disciplined Agile Scrum Master).
Post this, if you need to graduate to the next level, you can either become
PMI-ACP Certified or DASSM (Disciplined Agile Senior Scrum Master)
And the Master level certification is for Disciplined Agile Coach (DA Coach) and DAVSC (Disciplined Agile Value Stream Consultant).
This is a nutshell the journey to Business Agility.
To know more about the details of each, please visit https://prothoughtssolutions.com/course/disciplined-agile-certification/ for more details
My Take:
As I see over the years, PMI-ACP did not pick up as expected by PMI and even with its financial muscle and the global network, PMI-ACP could not grow to the expected numbers. One of the reasons that PMI-ACP did not do well, would be talking about Agile in general and not specific in its approach. Many organizations would like to implement Agile in their workplace and reap the benefit. PMI-ACP, which gives a good knowledge about Agile, – does not give good prescriptive guidance on how to implement Agile in its workplace.
This led to the search for some path-breaking thing in Agile, which has made its mark and open some revolutionary concepts in the world of Agile. And that led to Disciplined Agile (DA).
PMI acquired Disciplined Agile in the year 2019 and currently it got launched primarily in 2 markets of India and the USA. As I am writing this blog, it is getting introduced globally. DA is a very specific product and covers the gamut of Agile practices. It provides the prescriptive approach when needed and depending on the situation, it tells to do more evolving practices as it suits the various needs of varied teams and organizations.
DA looks more promising than PMI-ACP at the moment. And PMI is investing its' money in DA more than anything else. Agility is the way forward and what better than the tool to make it work.
PMI-ACP is retained by PMI going forward. I think they have as there are still many who have their PMI-ACP certifications done and would not like to terminate it at one go. However, I think they will give more importance to DA and phase out the PMI-ACP over time.
Let's hear it out what the industry experts say about PMI-ACP vs DA.
If I need to summarize, Disciplined Agile carries a promise, and as a practitioner, and even as a premier partner, I am more excited for Disciplined Agile.
If you would like to make a choice between PMI-ACP and DA, I would make it for DA, and it has a great future, as things stand today.

Your comments and thoughts are most welcome.