How should I get started with PMP Exam Preparation?
ProThoughts Solution makes it easier for all PMP aspirants with the guidance and the process to get PMP®️ certification.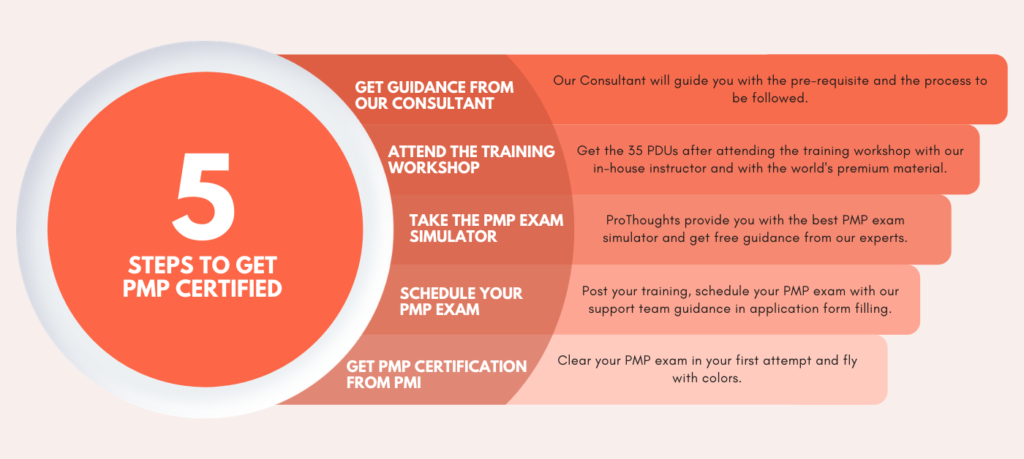 FEATURES OF THE PMP CERTIFICATION TRAINING WORKSHOP:
Most recommended PMP® Exam preparation book i.e. Rita Mulcahy material (Latest 10th Edition)
Slide books based on PMBoK® (Copyrighted)
Mind Maps (Revising the concepts)
Flash card 100 + – Ready Memorizer
5 Online Mock Exam Simulator to assess exam preparedness
Counselling with the in-house experts (*Available via Email, Phone, WhatsApp, F2F by appointment only)
Application Support assistance (Will support till your applications gets accepted.)
Suggestions and tips to crack the PMP exam in the first attempt.
Practical training on Project Management tool to work out real projects.
Gamified learning approach
Rapid Fire Rounds with Quizzes
Money-Back Guarantee if you do not pass in the exam within 60 days (*Terms & Conditions applied)
35 Contact Hours Certificate (ProThoughts is Premier authorised partner of PMI)
Exclusive Mega Pass to avail refresher course for 6 months
KEY LEARNING FROM THE COURSE?
Aligned with the latest edition of the PMI® guide to the Project management body of Knowledge (PMBOK®), it represents a solid understanding of the Project management tools, processes and techniques.
Reliance to clear the PMP® Certification exam in your first endeavour.
Adding more to his/ her responsibilities as a Project practitioner in your organization.
1. Apply what you've learned in class to complete real-life projects.
2. Learn the good practices, identify the gaps and achieve advances in real-life projects.
PMP Certification till 2020 was primarily focused on Traditional or Waterfall approach. Effective Jan 2, 2021 PMP syllabus included Agile and Hybrid Approach in a big way and weightage was 50%. Traditional approach weightage was reduced to the other 50%. In PMP, there is no mention of any specific methodology. Rather, it is promoting Agile as a Mindset. The Agile Mindset driven PMI Logical Choice Operations platform whose access is license based is a big value add from PMI to PMP Aspirants. When you enroll with us or any other PMI Authorized Training Partners (ATPs), you must get this platform access from us.
Agile syllabus that is covered in PMP Workshops is broken in 5 parts:
Creating a High Performing Team
Starting the Project
Doing the Work
Keeping the Team on Track
Keeping the Business in Mind
Expectations from the Participants:
The course requires a clear focus and dedication from participants to study and take up the examination.
– Participants are presumed to duly complete their class-work, homework, class assignments, etc.
– Participants preferably should be a member of the Project Management Institute (PMI)®.
– The PMI membership can be obtained by visiting www.pmi.org and Opting for this is optional and can be done later as well.
– Membership enables the participants to access the Project Management Institute, Inc.® Guide free.
– Participants are expected to bring in their copies of the Project Management Institute, Inc.® Guide.
Project Management Professional (PMP)® Certification Exam Cost
PMP® examination is administered and overseen by the PMI® Institute. All Professionals require 35 hours of professional training to attempt the PMP® exam. The exam fee for the PMP® exam is USD 405 for PMI® members and USD 555 for non-members.
The Re-Examination fee is USD 275 for PMI® members and USD 375 for non-members.