PMI-ACP® stands for Project Management Institute Agile Certified Practitioner
The PMI-ACP Certification is one of the fastest growing certifications in the project management world. It has seen the sharpest rise of certified holders in the last 4 years.
The certification syllabus is more extensive as compared to a particular Agile methodology such as Scrum. It gives an overall extensive knowledge of Agile and includes all the Agile methodologies including Scrum, XP, DSDM, Crystal among others. This PMI-ACP certification will make you better equipped to handle any Agile project. In our opinion, this PMI-ACP Certification is one of the most comprehensive certifications currently in the Agile world.
The PMI-ACP® Exam tests on everything about Agile, from Agile Manifesto, different Agile methodologies and frameworks (Scrum, Kanban, XP, Lean, etc.) to Agile tools, techniques, skills, etc. for everyone involved in Agile projects e.g. project managers, product owners, Agile coaches and trainers, developers, testers, business analysts, etc. Join ProThoughts "Game-based Interactive" Agile workshop with Mike Griffith's material.
Key Takeaways from Workshop:
ProThoughts is an exclusive distributor of RMCLS and Mike Griffith's material – access to his powerful tips and techniques.
Learn different Agile methodologies from Agile Experts
Develop an Agile mindset to apply Agile Techniques in your projects
Learn the Agile techniques and strategies to implement in your project
Engage with fellow participants through games and learn to adapt in different project scenarios
Learn how to generate value and minimize threats (risks)
Understand Scrum methodology, tools and principles to apply in your project
Exam Tips and how to crack the exam in 30 days
Key Giveaways in the workshop:
World's Best Agile Material – Mike Griffith PMI ACP Exam Prep – Updated 2 nd Edition
PMI-ACP Slide Book
PMI Flash Cards
21 PDUs
2 Mock Exams from our experts plus Mike Griffith's exam questions
Post Training Support including Application Form Filling, Review and Counseling till you get PMI-ACP certified including F2F*, phone calls, emails, etc (*prior appointment)
Free 100-day access to our e-learning resources
Free subscription to talkprojectmanagement.com rich content and free access to our Agile webinars
PMI-ACP® EXAM CONTENT OUTLINE
The PMI-ACP® examination will consist of 100 scored items and 20 unscored (pre-test) items. The unscored items will not be identified and will be randomly distributed throughout the exam. The allocation of questions will be as follows:<align="center">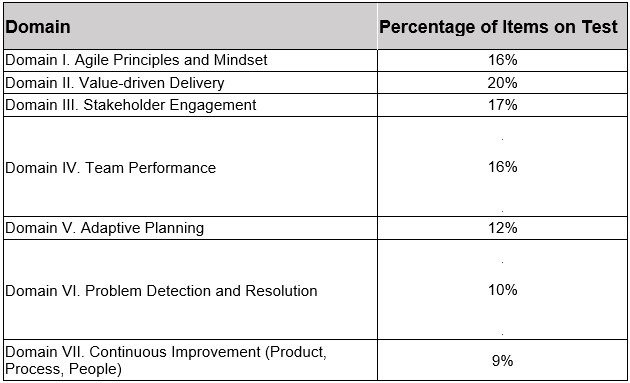 This certification has been designed to:
demonstrate to employers the practitioner's level of professionalism in agile practices of project management; and,
increase the practitioner's professional versatility in both project management tools and techniques.
Certification:
To take the PMI-ACP®Certification Exam, candidates need to register and create a login at the PMI's Online System.
You can also download a copy of the PMI-ACP® application form.
Please refer to the PMI-ACP Handbook for further information.
The Exam:
The computer-based PMI-ACP® examination is of 120 multiple-choice questions and has to be completed in 3 hours. You are scored on 100 questions and the rest 20 questions are pilot questions.
The PMI-ACP credential must be maintained in 3-year cycles by earning 30 PDUs in Agile related projects for every 3 years.
PMI-ACP Certification Fees
The PMI-ACP Certification Fees for a PMI member is USD 435 and for a non-member is USD 495.
PMI-ACP Syllabus:
All our material is approved by PMI for PMI-ACP Training. We have included numerous games in our 2 day classroom workshop. And our participants look forward to coming and learning Agile in a new unique way. As per the PMI-ACP standard, the following material is covered:
Introduction to PMI-ACP Certification
Agile Manifesto & Agile Principles
Agile Mindset
Agile Methodologies
Value-Driven Delivery
Agile Contracting
Stakeholder Engagement
Team Performance
Adaptive Planning
Tools for Sizing and Estimating
Release and Iteration Planning
Problem Detection and Resolution
Continuous Improvement
Benefits of PMI ACP:
There are many benefits which accrue from the certification. Listing down the few our participants mentioned:
Proof of Professional Achievement
Increased Academic Knowledge
Transform your projects into an Agile way
Learn about all the popular Agile practices
Higher Career Prospects
More Respect from your team and stakeholders
Opens up Opportunities
Agenda for the Workshop: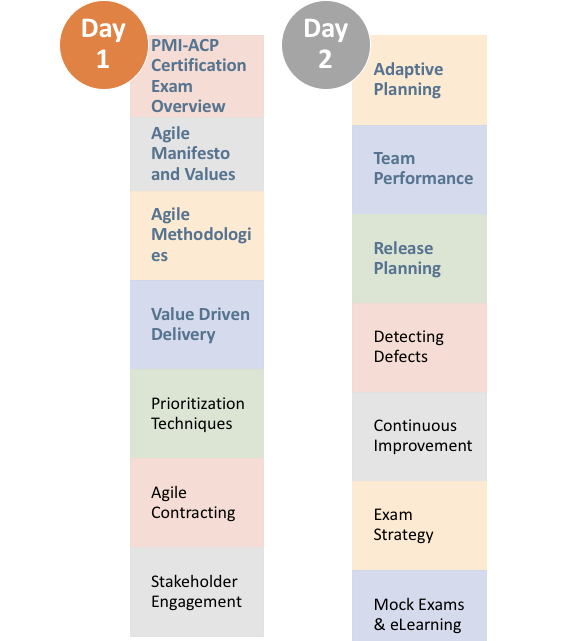 Who should do the Training:
The Training workshop can be attended by the following:
Agile Experts, Practitioners, and Aspirants
Agile Team
Customer Team involved with Agile
Actually, anyone who is doing the Agile project and/or wants to do an Agile project J
The Skills you may acquire:
The following skills you will acquire by doing PMI ACP workshop:
Learn how to do an Agile project
Understand which Agile practice is suitable for your project and organization
Learn and understand Agile Values and Principles
Learn how to prioritize requirements
Learn how to prepare a Product Roadmap
Learn how to estimate and prepare a Release Plan
Learn how to create a Sprint or Iteration
Learn the best practices of Scrum or Iteration
Learn how to create User Stories
Learn the best techniques of prioritization and creating User Stories
Learn how to Continuously improve your solution
Learn to identify, detect and resolve problems in your Agile project
PMI-ACP Eligibility Requirements
To be eligible for the PMI-ACP certification, you must meet the following educational and professional experience requirements.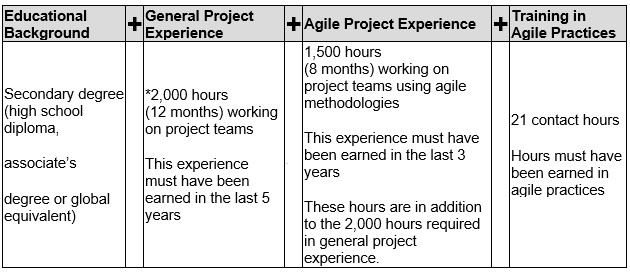 *Note: for those who hold a PMP and/or PgMP certifications, PMI has already verified you have exceeded the project experience requirements. In other words, PMP and/or PgMP certification holders will be accepted as fulfilling the general project experience requirements.
PMI-ACP Certification Fees
The proper fees for payment are determined by your PMI membership status and the examination delivery type (computer-based versus paper-based) for your geographic location. Refer to the Examination Administration section in this handbook to see if you qualify for paper-based exam delivery. Otherwise, plan on taking a computer-based exam and submitting the associated fees. Use the following chart to determine the certification fee.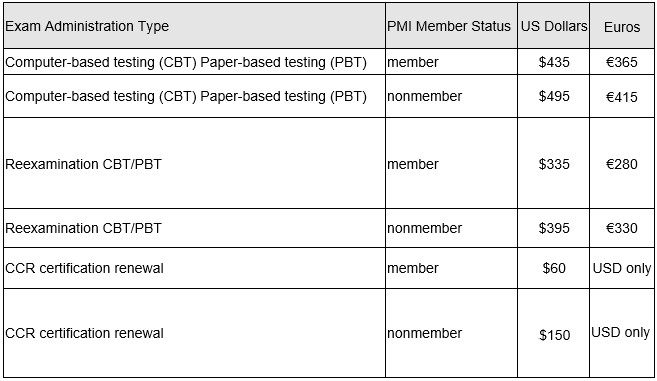 The PMI membership rate will apply only if you are a member of PMI in good standing at the time you submit payment for the certification. If you apply for membership right before you apply for the certification, make sure you receive confirmation of your membership before you pay for the certification. If your membership has not been completely processed before you pay for the certification, you will be charged the nonmember rate.
If PMI membership is obtained after you submit payment for the certification, PMI will not refund the difference.
PMI Audit Process
The submission of an application indicates your agreement to comply with the terms of the audit process. All applications are subject to an audit, although only a percentage of applications are selected for audit. The selection of an application for an audit is random.
If your application is selected for an audit, you will be notified by email prior to payment of the certification fee. The electronic audit notification provides detailed information on how to comply with the terms of the audit.
During an audit, you will be asked to submit supporting documentation such as:
Signatures from your supervisor(s) or manager(s) from the project(s) recorded in the experience verification section of the application
Copies of certificates and/or letters of the registration, from the training institute(s) for each course recorded on the application to meet the required contact hours of training in agile practices
PMI provides you with 90 days to submit the requested documentation. If you are able to provide the necessary documentation to meet the terms and requirements of the audit process, the audit should take about five to seven business days to complete.
You can send your completed audit forms by regular postal mail or express courier service, to the address below. Please send all materials at one time, in one envelope. Sending audit documents separately can cause delay in the audit review timeframe.