Lead your career and make an IMPACT with Leading SAFe 5.1 Certification and achieve business agility for your organization
The Leading SAFe version 5 is the gateway for SAFe Framework and a potent weapon to make an IMPACT for yourself and your organization, given the fast changing landscape of today.
The two-day course Leading SAFe Certification is an incredible combination of Lean and Agile and helps to successfully adopt the Scaled Agile Framework (SAFe). The SAFe is based on the solid foundation of Lean and Agile and is derived from Lean, systems thinking, Agile development, product development flow, and DevOps. SAFe agile is the most popular framework adopted by global market leaders to leverage Business Agility.
Lead the way to achieve Business Agility, and Make an IMPACT with Leading SAFe 5.1 Certification!
Who can apply ?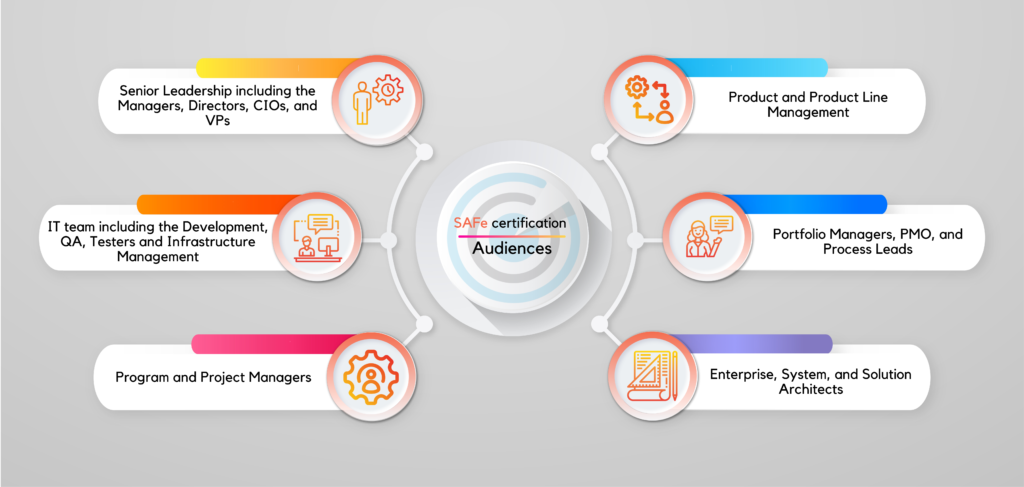 Our Differentiators
Delivery

– Our Course is Trained by SPCT candidates with years of experience in SAFe Training courses. They bring years of SAFe practical experience.

Post Training Support

– Prothoughts is known for responsive support and hand-holding you as a participant till you get your coveted certification. ProThoughts Post Training Support has various touchpoints to help candidates post their SAFe Training such as instructor access, Live Webinar support, experts query resolution sessions for batches, ProMOCK Exam simulator platform, extensive content, etc.

Interactive Learning Methodology

– The workshop will be interactive and have a lot of activities and that's a hallmark of Prothoughts Training sessions.

Superior Material

– Prothoughts give additional training material over and above the SAFe standard material, which helps students to crack the exam with full confidence. ProThoughts provides Pre-Training and Post Training material for participants to not only crack the exam but also understand the concepts and apply it in their workplaces.

ProMOCK Simulator Platform

– A state of art simulator to practice SAFe mock exams to crack the exam with full confidence.
Gateway To SAFe® Communities
ProThoughts will provide you with access to a greater community of active Scaled Agile experts and improve your practical knowledge on SAFe®.
What will be your Learning goals ?
The 2 days Leading SAFe will help you with the following: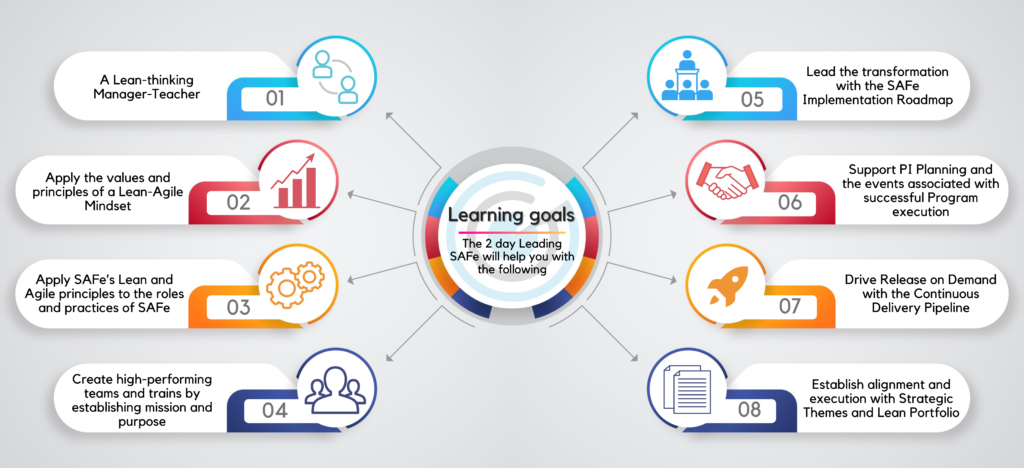 You attain SAFe Agilist Certification once you pass the exam. You get:
SAFe® 5

Scaled Agilist (SA) certificate

SAFe Digital Badge to share and promote your achievement

A one-year certified membership as a SAFe Agilist

Access to the SA Community of Practice

Extensive Access to Webinars and Content
If you do not pass the exam, every attempt costs $50.
Here are the Exam Details!
Exam name

– SAFe Agilist Exam

Exam format

– Multiple choice

Exam delivery

– Web-based (single-browser), closed book, no outside assistance, timed

Exam access

– Candidates can access the exam within the SAFe Community Platform upon completion of the Leading SAFe course.

Exam duration

– Once the exam begins, candidates have 90 minutes (1.5 hours) to complete the exam.

Number of questions

– 45

Passing score

– 34 out of 45 (75% pass rate)

Language

– English

Exam cost

– The first exam attempt is included as part of the course registration fee if the exam is taken within 30 days of course completion. Each retake attempt costs $50.

Retake policy

– A second attempt on the exam (first retake) can be done immediately after the first attempt. The third attempt requires a 10-day wait. A fourth attempt requires a 30-day wait.

Renewal fee:

$100
What will be the Learning Topics ?
During the program, we'll go into the following topics:
Thriving in the digital age with Business Agility

, Leverage SAFe for Business Agility and explore how SAFe Seven Core Competencies achieves Business Agility

Becoming a Lean-Agile leader

, Apply lean-agile mindset and learn how SAFe Principles enable business agility at scale

Creating High-Performance Teams

Demonstrate cross-functional Agile Teams to support Build quality in, Organizing Agile Release Trains (ARTs) around the flow of value

Building Solutions with Program Increment (PI) Planning

Enable Customer Centricity with Design Thinking, Prioritizing the Program Backlog, Participating in PI Planning, Developing on Cadence; Releasing on Demand, Building a Continuous Delivery Pipeline with DevOps

Building Lean Portfolio Management

Understand how to define the SAFe portfolio, and further, maintain the Portfolio Vision, and establish the Portfolio Vision. Understand Value Streams and funding the Value streams

Leading the Transformation Way into Organization

Understand how to lead by example i.e. Authenticity, Emotional intelligence, Lifelong learning, Growing others, Decentralized decision-making and Identifying actions to take for leading the change
How can the Leading SAFe Certification benefit an organization ?
Achieve Agility

Higher Customer Satisfaction

Increased Collaboration and Higher Employee Morale

Increased Business
How can the Leading SAFe Certification benefit an Individual ?
Excel in your Project Management career

Increased Knowledge and Stand out in the community

Higher Recognition in Industry

Better Career Opportunities

Better Pays

Be the Catalyst your organization wants in their Transformation journey
Who can benefit from this certification ?
For the organization to be Agile, everyone in the organization has to be Agile. Agile as a concept is applicable for everyone, absolutely everyone. And therefore, this course is open to everyone in the organization. Not only Project Managers or IT professionals – everyone can do this course and benefit immensely from the learnings of this course:
This course is not limited to the following, but typically the following members should attend:
Senior Leadership including the Managers, Directors, CIOs, and VPs

IT team including the Development, QA, Testers and Infrastructure Management

Program and Project Managers

Product and Product Line Management

Portfolio Managers, PMO, and Process Leads

Enterprise, System, and Solution Architects
Why trust ProThoughts with SAFe certification ?
Prothoughts focuses exclusively on Project Management and is known for its unique Content and Delivery.
Prothoughts over the years have gained many accolades such as "Top 10 Corporate Training Companies in India" or "Best Education Institute" but the best is that we get many repeat customers and that talks a lot about our content, delivery and services.
We have differentiated ourselves from a lot of training institutes with our differentiators and have helped many practitioners earn their coveted certification.
For example, for the Leading SAFe certification, we offer great content besides the SAFe material. There is a Pre-reading material to prepare for the workshop and Post Training material to crack the SAFe exam. Further, a state of art ProMOCK simulator which helps students to practice mock exams and crack the exam with full confidence. Throughout the experiential journey of earning the coveted SAFe credential, you are hand-held by ProThoughts staff and experts, which gives the much-needed guidance at every juncture.
Check our Customer Reviews to know more about ProThoughts
Scaled Agile Framework (SAFe) with its latest version (Version 5 and the latest update 5.1) has been the most popular Agile certification for corporates and individuals alike. SAFe principles have proved to be beneficial for a lot of organizations on the organization's path of Agility.
With the ever-changing dynamic landscape, Agility has become a potent weapon and an important asset to steer the organization and provide a competitive edge. Many times, many teams do not understand the right mechanisms or processes or tools to use to do the job better and end up doing the wrong thing which results in Rework, Additional work, Fire-fighting. This, in turn, has a lot of negative impact on the organization's prospects and the survival of the organization becomes critical.
Many organizations have adopted Scaled Agile Framework (SAFe) as one of the important areas to remain competitive in this fast-changing world.
The Scaled Agile Framework® (SAFe) is a comprehensive framework and method to achieve organizational agility. It's an incredible combination of Lean and Agile, and Leading SAFe 5.1 is the gateway and the 1st step toward SAFe. In its latest release (version 5, update 5.1), SAFe brings full business agility with significant advances in strategy, execution, and leadership competencies, which will help individuals and organizations to deliver cutting-edge business solutions and give the individuals, and the organizations, the competitive edge.