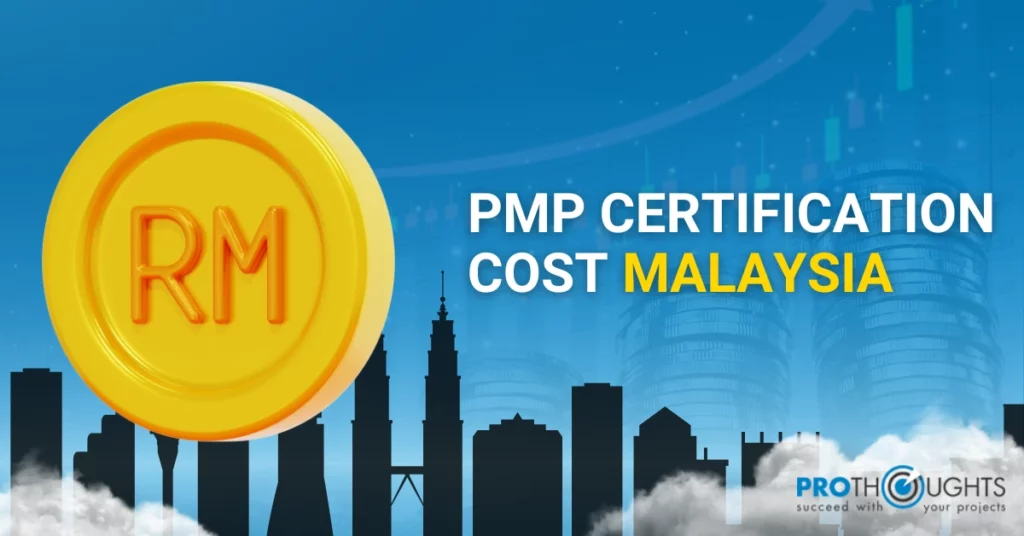 In today's competitive employment market, when candidates are expected to be consistently one step ahead of their competitors, knowledge is power. The market for project management is anticipated to increase in the project-oriented sphere at 33%. If you are seriously considering obtaining a PMP certification Malaysia, the biggest question you must have is: What will be the total PMP certification cost in Malaysia?
Most people only consider the PMP exam cost and the PMP fees. However, there are additional expenses associated with PMP certification. How much do the various requirements for the PMP certification cost? How much should you set aside to become a Project Management Professional? Would you need to budget for anything else besides the PMP certification training and the PMP certification fee for everything else?
What are the Benefits of PMP Certification Malaysia?
PMP is a globally accepted certification and is highly valued! It gives you an edge while competing worldwide for different Project Management positions. You can expect the following benefits once you obtain the certification! 
PMP certification is costly because it is an internationally renowned credential. In any industry, any field, and in any part of the world, a professional with PMI certification stands out from the crowd. 
Some of the advantages of holding a PMP certification are as follows:
To pass the exam, you'll need to study not only the fundamentals of project management that you know but also the cutting-edge tools, concepts, and skills that are in high demand in the field. 

Once you get your PMP certification, you can expand your professional horizons by connecting with other experienced professionals through PMI's many networking events and opportunities.

According to data published by the Project Management Institute (PMI), certified experts earn 16% more than their non-certified peers and receive hiring priority.

Preparing for and succeeding in the Project Management Professional exam indicates your dedication to your profession. You can easily do that through ProThoughts PMP Certification training!
What are the additional expenses under PMP Certification Cost Malaysia?
You should be aware of other costs associated with getting your PMP certification.
In addition to the required PMP training expenses, there are a few other costs to consider when preparing for certification. You will need resources for you to complete the PMP course training successfully. The initial investment is high, and there are further costs to consider.
One should know the details about the PMP certification fees if you are considering becoming a PMP. Find out what the different types of expenses under PMP certification cost Malaysia as you further read the blog.
What are the additional expenses for the PMP Certification cost Malaysia?
To simplify this discussion, I will divide the total PMP exam budget into three parts:
Fixed Expenses 

Variable Expenses

Additional Expenses
The cost of getting this certification will differ depending on their circumstances and needs.
1. Fixed  Expenses 
The PMP test starts at $575 for the first attempt. If you fail the first time, you can retake the exam twice within a year for a fee.
The current starting price for a PMI membership is $149, and the renewal price is $139 yearly.
The savings you'll realize by taking the PMP exam after becoming a PMI member will more than cover the cost of your membership. The fixed expenses segment of the PMP certification cost Malaysia can range from $375 to $555.
2. Variable Expenses
There is a wide range of PMP training courses that will cost you accordingly. Online, virtual, and traditional classroom settings are all available from various service providers and ProThoughts is one of them. Online training is available through us at ProThoughts!
Some of the variable expenses are listed below:
The sort of Institution

Training lectures

Course training professors

Course training materials 
If you need contact hours of training, enroll in our PMP certification online course because they are convenient, economical, and can be completed from the comfort of your home. 
3. Additional Expenses
In this section, I'll talk about potential extra costs that may or may not come up, depending on how you go about studying for the test.
While some training courses may supply study notes and sample exams, you will likely need to purchase these items separately. Among those expenses, some of them are listed below: 
Additional Mock Exams and their evaluation

Other Resources: Quizzes & Practice Tests 
1. Book Prices
The  PMBOK (Project Management Body of Knowledge) Guide is the primary reference for PMP exam content. It provides a comprehensive overview of project management principles and processes. The PMBOK Guide serves as the basis for the PMP exam, and questions are often directly or indirectly related to its content. Therefore, understanding the guide's concepts, knowledge areas, and processes is crucial for success in the exam. Leverage the PMBOK Guide in conjunction with other study materials to reinforce your understanding of project management principles. Consider obtaining a copy, whether in digital or print format, to ensure alignment with the exam syllabus and to have a foundational resource for studying.
As a PMI member, you are entitled to a free soft copy of the PMBOK Guide. It will cost money for those who are not members. The PMP certification cost Malaysia for book prices can range from $100 to $180.
2. The Price of Mock Questions & Simulators
The PMP exam has two hundred questions, and you have 4 hours to complete them. You will need a lot of practice to accomplish this. Therefore, investing in PMP exam simulators and mock exams is crucial for effective preparation. The PMP certification cost Malaysia for these resources can range from $50 to $150 or more, depending on the provider, the number of practice exams included, and additional features offered.
PMP exam simulators and mock exams replicate the actual exam environment, providing valuable practice and helping candidates gauge their readiness. Look for simulators that offer detailed explanations for correct and incorrect answers, allowing for targeted improvement in weak areas. Some may also include performance analytics to track progress over time.
Regularly practicing with exam simulators and mock exams is essential for time management, familiarity with the question format, and building the stamina needed for the four-hour PMP exam. Consider including these resources in your study plan to identify areas for improvement and boost confidence before the actual exam.
3. The Price of a PMI Membership
To reiterate, the PMP certification cost Doha of the PMI certification exam is more than the $139 annual membership charge. Thanks to the free digital copy of the PMBOK Guide, you already have plenty of motivation. PMI membership not only provides financial advantages but also fosters a sense of community among project management professionals. Hence, engaging with PMI can offer insights, support, and access to a network of individuals who share similar career goals. Moreover, consider joining PMI early in your PMP exam preparation journey to maximize the benefits throughout the certification process.
4. The Price for Alternative Resources
You can save time and effort on your PMP exam preparation with the help of the supplementary materials, in addition to the PMBOK guide. We would suggest referring to at least two more reference books for optimal preparation. Study aids such as preparation materials by Rita Mulcahy are a good example. You may consider other books as well but the cost may depend on the popularity of the author, the depth of content, and the inclusion of practice questions. Candidates should choose books that align with their learning styles and preferences. Look for materials that provide comprehensive coverage of PMP concepts, practical examples, and effective study strategies.
Other resources that are provided by ProThoughts, include study notes, flashcards, factual/false statements, mind maps, practice questions, and more. You should choose materials that complement your primary study sources. Therefore, with ProThoughts, you can rest assured that our PMP-certified experts have curated the best resources for you that align perfectly with your primary reference materials. The PMP certification cost Malaysia for the questions can range from $50 to $150.
5. Travel and Accommodation
For candidates attending in-person training, workshops, or taking the exam at a physical testing center, travel and accommodation costs should be considered. This includes expenses for transportation, lodging, and meals. You should plan your travel well in advance to secure cost-effective options. Therefore, if you are attending an in-person exam, familiarize yourself with the testing center's location and any local accommodation options, that are lighter on your wallet.
Below is the chart for the PMP fees:
There are different types of PMP memberships provided by PMI. They are as follows:
| Type of Membership | PMI Membership | Student Membership | Retiree Membership |
| --- | --- | --- | --- |
| Cost of Membership | $139 | $32 | $65 |
The rates for PMI and non-PMI members differ for various things such as the ones listed below:
| | PMI-Members | Non-PMI Members |
| --- | --- | --- |
| PMP Examination Fees | $405 | $575 |
| PMP Re-examination Fees | $275 | $375 |
Conclusion
We rounded up all the factors that affect the PMP certification cost Malaysia in this guide – from fixed to variable costs. Although the initial expense might seem like a lot, the perks are plenty! Once you pass the PMP exam, you will benefit from being a project management professional, with expanding career opportunities, higher pay, lesser stress, and an effectively managed workload. Ready to make this investment with guaranteed returns? Then, join ProThoughts' PMP Certification Training in Malaysia today!