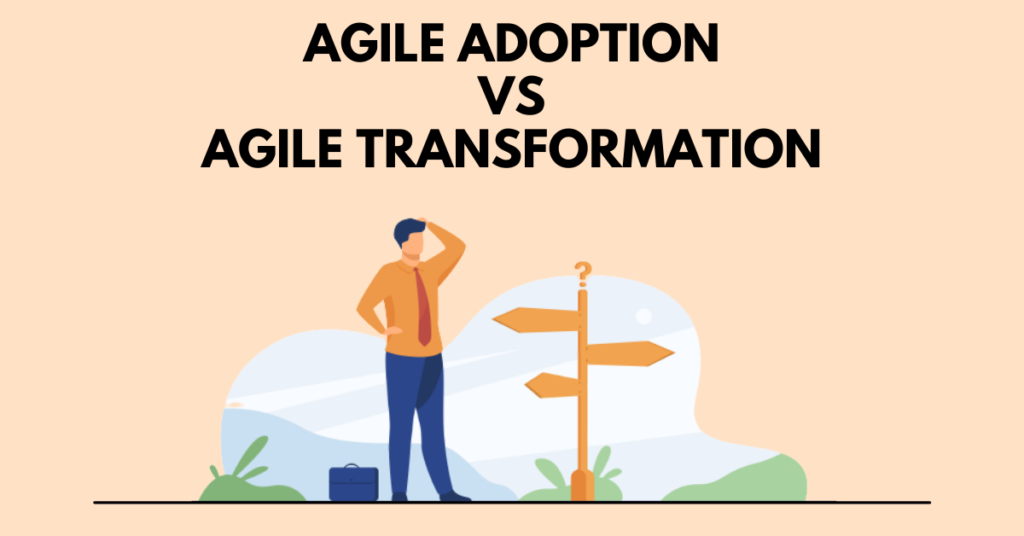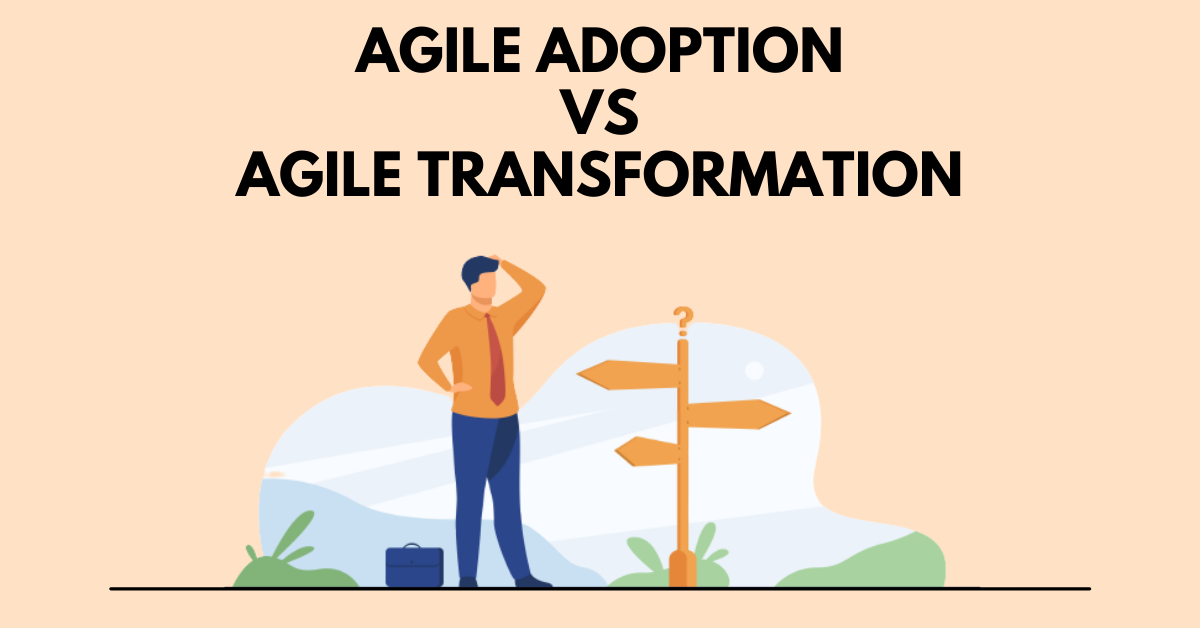 A common question which is asked in the workshops and many corporate clients is what is the difference between Agile Adoption V/s Agile Transformation. A very relevant topic in the current changing times where Corporates want to bring Enterprise Agility.
Why This Topic?
Many organizations and senior leaders want to bring Agility in their organizations. It is the new buzzword after all and corporations want to ensure that they do not miss the bus. However, many think it is a plug-and-pay kind of solution, and things will improve overnight.
Many do not realize that it is a journey with a lot of sacrifices and rediscovering your mojo, and therefore, reaping the benefits is a game of patience and perseverance.
But many do not want to make the sacrifices. We had a couple of instances where we were in talks with the organizations to inculcate Agility and later, they realized they are not ready for a change in culture and the many other sacrifices. They want the best of both worlds and yes, there is something like that. Some call that as Agile Adoption and we do get some incremental benefits as well. And what I was referring to in my earlier para, was "Agile Transformation" which has a long term impact and very high ROI.
Let's understand the same in detail as it is a very exciting and extremely relevant topic.
What is Adopting Agile?
The generally accepted definition of Agile Adoption is "a change in process to one that is consistent with the Agile Values and Principles". The focus during Agile Adoption is on process change.
You can view Agile Adoption as moving from one process, such as waterfall or SDLC, to an Agile process or framework. This might also be called an Agile transition.
Adopting Agile can be implementing a new process such as Scrum practice. Or any other practice, such as Kanban, XP, Lean, DSM can be termed as Agile Adoption.
I had recently done a training and awareness session with Agile and Scrum for a project team. And the next day, they were ready to implement Scrum. It is a prescribed method which can easily be adopted by the team. However, it was a mandate from the leadership and nobody questioned why we were doing what we are doing? E.g., Scrum practice. Adoption is fairly quick as compared to Transformation.
Statistics of Agile Adoption
The below are some of the statistics on why organizations go for Agile Adoption: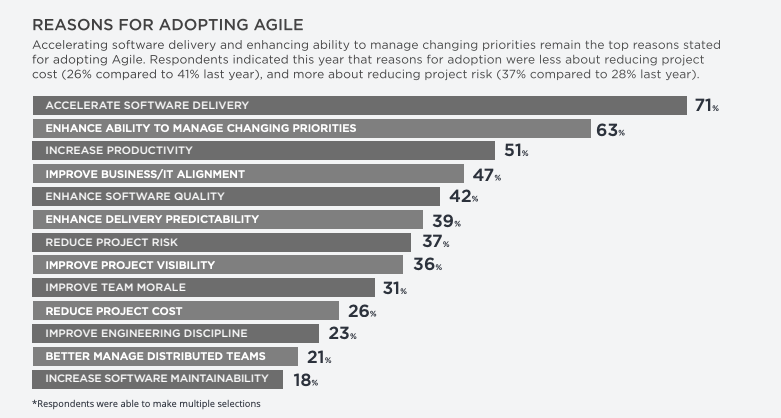 The Top 5 Practices Used for Agile Adoption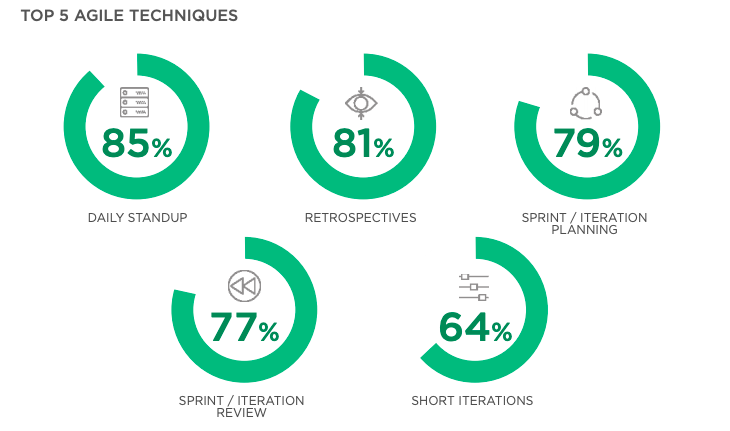 Source: 14th State Agile Report
Agile Transformation
Agile Transformation is the process of transforming an organization's culture and nature to one of agility. Transformation is about a fundamental change in the way people think and feel.
Some people distinguish this from adoption by calling agile adoption "doing agile" and agile transformation "being agile".
Statistics for Agile Transformation
The below statistics show success is measured for Agile Transformations.

The below statistics shows the challenges for Agile Transformation:

Source: 14th State Agile Report
Drawbacks for Agile Adoption and Agile Transformation
The drawbacks for Agile Adoption and Agile Transformation are given below. I haven't elaborated the drawbacks, partly because they are self-explanatory and partly, because they are not the discussion point of this topic.
The gist of the topic is discussed in the next section.
The 9 Point Differential Between Agile Adoption and Agile Transformation
We have come with the 9 point differences between Agile Adoption and Agile Transformation, which will give a good idea and understanding of the difference. It will also help the Corporates, the Leadership and the teams to understand what they are doing, and help in the journey of Agility.

Let's elaborate each and every difference between Agile Adoption and Agile Transformation.
1. The Agile Way of Working (WoW)
In Agile Adoption, the Team goes into the process of "Doing Agile". They follow the instructions to follow the Agile methods, practices without asking the question why. The team follows or does Agile, perhaps to bring harmony in the organization. The team, maybe is following the Leadership instructions to do Agile.. In my experiences, the teams are doing Daily Coordination meetings – they time it and finish it in 15 mins. But post the Daily Coordination meeting, the teams are working in the same traditional project methods. The mindset still remains that of a controlling nature and you are doing the things in the same way, but now some additional things. You miss the point and you do not inculcate the mindset of Agility.
Whereas in the Agile Transformation, you develop the mindset of Agile. You understand the reason for doing Agile. There is a structured plan and although a slow process, you are in the journey of "Being Agile"
2. Speed of Change
When you are Adopting Agile, you are fast in adopting the Agile practices. In my experience, the team is ready to follow the Scrum practice almost immediately post the training. The team is confident of doing Agile and starts using the ceremonies. In our DASM or DASSM certification workshop, Scrum is advised to be a great starting point for starting your Agile journey. The speed of change is pretty fast and many corporations & their leadership are reasonably happy that there is a quick win to show.
However, the speed of change in an Agile Transformation is very slow. It requires a structured approach with the leadership totally involved. The transformation is led by a senior leader and has the buy-in of the leadership team. But as the wise people, the things which go slow also stay longer. The Agile transformation has higher benefits and has long-term impact on the organization.
3. The Focus Area
Agile adoptions are concerned about getting teams to understand and use the tried & tested Agile practices.
I've worked with many organizations that initiate Agile adoptions without clearly articulating the 'why' behind the adoption. In its absence, people almost always assume the 'why' is to 'work like other Agile software development teams.' They start using JIRA, begin calling all requirements user stories, and change the titles of their business analysts to product owners.
Test-driven development, pair programming, user stories, iterative development, emergent architecture, the Kanban Method, and Scrum (among other things) resulted from or are tightly coupled to the Agile software development movement.
What's missing in those Agile adoptions is a vision for the future. What will be different as a result of changing the way people work? How will you measure that difference? How responsive do you need to be to your market conditions and internal organizational disruptions? What risk needs to be mitigated? What is the business value in increasing organizational collaboration and innovation? How will you quantify and measure increases in those things? These are the concerns of agile transformation.
4. About
The Agile Adoption has a myopic view and is more concentrated on the Team. The team can be an 8-12 member team and the idea is whether the team adopts the Agile practices successfully. The Agile Transformation is all about bringing Agility across the organization and is not concerned just with one team. It is also not just concerned with IT teams but also with the teams of other functions such as Marketing, Sales, R & D, Legal, Procurement – all the functions which make the organization. Because, even if one team is not Agile, how can you deliver Value sooner (Agility). The idea is whether the organization can be successfully transformed and deliver Agility.
5. What We Do?
There was a time in 2013-15, where many organizations started doing things which Spotify was doing. They thought that Spotify does some great things and if we do the things they do, we should be doing good in business. The CTO of Spotify had clarified that they evolve their way of working and what they used to do, is no longer valid. They move on to do things in a better way. And further, Spotify's processes may not apply to you, as your context may be radically different.
The Apex level competitors such as Spotify, Amazon, Google, Microsoft, etc create their own practices and therefore, they are the leaders in the marketplace.
Adopters are followers. And we should decide where we want to be – a Follower or a Leader?
6. Organization Structure Change
The Agile Adoption hardly necessitates a change in the organization structure. In fact, many times, we haven't seen the team structure changing at all. The Project Manager takes the role of the Scrum Master and the control is not entirely lost, but the team is following the required ceremonies and new practices.
However, in the Agile Transformation, without a structural change, you will hardly reap any benefits. It is difficult to let go of control especially at leadership levels. It is easier to add control as it gives false sense of security but difficult to let it go. And therefore, Agile Transformation requires buy-in from leadership and is treated very differently from Adoption.
7. Cultural Change
Agile Transformations will result in a cultural change as you evolve your Way of Working. I had been talking with clients on Agile Transformation. The clients are very excited to embrace Agility and transform the organization, as the talks start. As the talks proceed further, the clients understand there is a need to change the culture and structure, and many organizations hadn't estimated such a change. Even to make an Agile Transformation decision, it takes considerable time for organizations as there is a lot at stake.
In Agile Adoption, the cultural change is limited to the particular team and hardly goes beyond the team. Every other team is working in the same fashion as before. Many times, the adoption pilot does not fly beyond the particular team.
8. Output
The Agile Transformation journeys are carried out for delivering Value sooner to the customer and it is completely focussed on delivering value. The output is Better / Higher Value delivered which has many benefits such as Higher CSAT, Better Business, lesser opportunity cost, higher competitive advantage etc. The Agile Adoption output is Higher Productivity. You become better at what you were doing before. You cut wastes in your processes and become more efficient in doing what you were doing earlier.
9. Impact of RoI
Actually, there is not enough research done on this. From my experiences, my discussions with experts and some reliable internet sources, I can suggest that the RoI in terms of Adoption is 20-50% on average, and the Agile Transformations do not only give a higher RoI, to the tune of 100-300% but also these higher gains and the new mindset also stays with you and has longer impact and brings a lot of intangibles.
Disciplined Agile – Overview – How it helps Agile Transformation or Adoption
Disciplined Agile is Hybrid Tool-Kit and leverages the many Agile practices and methods available and guides the user with the right option and practice / strategy as per the user's (Team's) context.
Disciplined Agile does a lot of heavy lifting and removes all the process overheads which the team generally has to do when faced with a peculiar situation. Moreover, the Disciplined Agile tool-kit gives a variety of options for the given situation in which the team can experiment and improve their Way of Working, and succeed sooner in their projects.
Essentially, Disciplined Agile works best for both Agile Adoption and Agile Transformation.
Disciplined Agile tool-kit suggests 7 lifecycles and helps to start with Agile solutions for a team to adopt. Disciplined Agile is designed for Enterprise Agility and has strategies and options for every team in the organization to help deliver value sooner to the customer.
This tool-kit therefore becomes the best solution for enterprises who wish to achieve Agility for their organization and who wish to start small, e.g., at Adoption.
Disciplined Agile is easy to learn and adopt. Disciplined Agile journey starts with DASM (Disciplined Agile Scrum Master) which helps the Team to adopt the tool-kit and Agile practices. It then has DASSM (Disciplined Agile Senior Scrum Master) which helps to manage complex projects and lead high performance teams. And finally, the master level is for Disciplined Agile Coach (DAC) which helps to achieve Enterprise Agility.
Disciplined Agile is an incredible tool-kit which gives you the tools depending on what you need and guides you as an experienced coach, to succeed sooner in your projects and bring about Agility.
Closing Thoughts:
Agile is a vehicle to achieve the Agile Transformation. It is a means and not an end. It is a long journey with a lot of hardships and uncertainty, but the destination and even the intermediate destinations (read milestones) are rewarding. Further it is the need of the hour, to survive and succeed in today's environment. The questions that organizations need to answer is what we need to survive – Be a Leader or a Follower?
"Agile is a philosophy that cannot be just "adopted"… rather, it takes a deep transformation in the culture of an organization for it to become Agile."
We, at Prothoughts, help organizations to achieve Agile Transformations with an easy modelled approach.
Trust this article was helpful in understanding the difference between Agile Adoption and Agile Transformation.
Your comments and suggestions are most welcome.