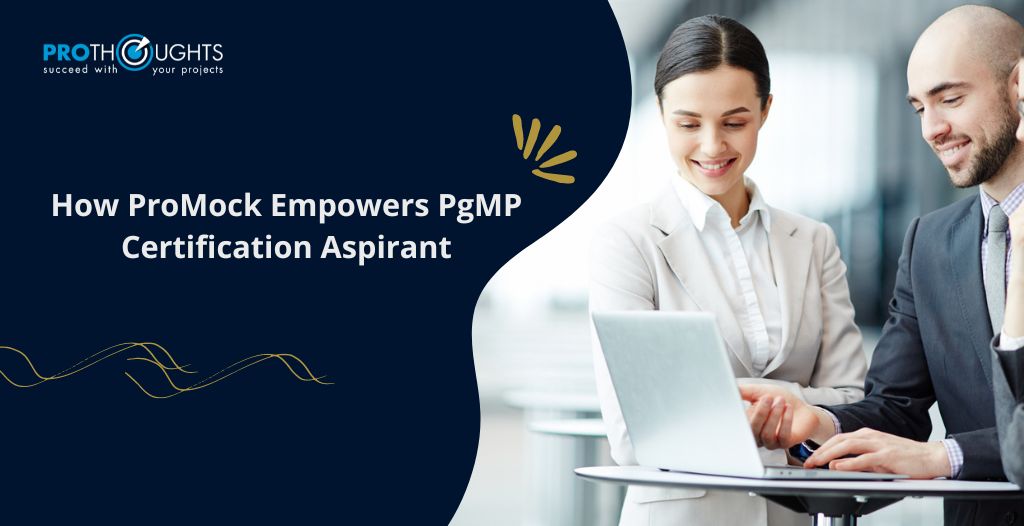 Program Management Certification is abbreviated as PgMP. This PgMP Certification is regarded as one of the most prestigious in the world of project management. A lot of people want to take the PgMP Certification test.
ProThoughts Solutions offer one of the best PgMP Certification Courses, and their PgMP Course is one of the most popular. They combine the fundamentals of program management with the 4th edition Standard Guide of Program Management from PMI in this PgMP course. They also include a cutting-edge Case Study that demonstrates how to use the ideas learned in the PgMP course in the real world.
If you understand the basics of program management, the PgMP Test is less difficult than the famous PMP® exam. The PMP test is more difficult and perplexing in terms of project management and the numerous scenarios in which the Project Manager finds himself. The Program Manager, on the other hand, has a smaller scope than PMP. The PgMP guide, for example, is less than 150 pages, but the PMP guide from the PMBoK 6th Edition is over 600 pages, and with the Agile addendum in 2021, it will be nearly 900 pages.
Candidates who are concerned about taking the test may be nervous since they have no idea what to anticipate. They have no idea what questions will be asked and have limited expertise in dealing with challenges in a short amount of time. They are unfamiliar with the phrases and topics that will be discussed on the exam. Even those who are excellent project managers in real life and have a thorough comprehension of the theory struggle to pass exams since merely knowing the subject matter is insufficient. You should also feel at ease sitting in front of your computer on the day of the event, knowing what to anticipate and how to deal with any questions that may occur.
Aids in the development of self-assurance
The screen's user interface will assist in stress reduction.
Spending time answering free PMP exam questions will give you a better idea of what to expect on the real test.
You'll be familiar with the tool's functions and capabilities, as well as how to utilize it. Instead of trying to read what's on the screen, you may concentrate on the questions.
Makes it easier to strike a balance between work and studies.
Arrange your academics around your other responsibilities.
You're a project manager seeking a way to study while balancing work and family obligations. This is exactly what the test simulator accomplishes.
You can access your revision whenever you have a few minutes from any device. To dig deeper into a topic, perform a full examination or a brief test in learning mode when you have more time. Make the most of your spare time by continuing your education whenever it is convenient for you.
Reduces the amount of time you spend studying for the Exam
Concentrate on the areas where you want further assistance.
Taking a practice exam can provide you with instant feedback on your strengths and flaws. Determine which topics require further research and move rapidly if you are confident that you have a full understanding of a subject.
Structured comments, in-depth explanations, and additional references point you in the direction of what you should review to improve your knowledge in a certain area. You'll know you've mastered the topic if you consistently pass your sample tests.
Aids in the evaluation of strategies
In a mock exam setting, test-taking methods should be rehearsed.
When you need to get rid of incorrect comments, what do you check for? How do you respond to mathematical questions quickly? What are the essential terms to look for in the question? They're all test-taking tactics you can study and practice with a simulator.
To provide other reasons why PgMP Exam Simulators are so important?
An intuitive user interface

All of the replies are thoroughly explained.

An in-depth examination

Revise and record

Make your preparations in a realistic environment.

Online access is available 24 hours a day, 7 days
Individuals may track their performance using the PgMP Exam Simulator, allowing them to focus on their weak areas and enhance their knowledge in those areas.
We'll be pleased to assist you with the finer points. Please contact us at [email protected].in and we would be pleased to assist you.