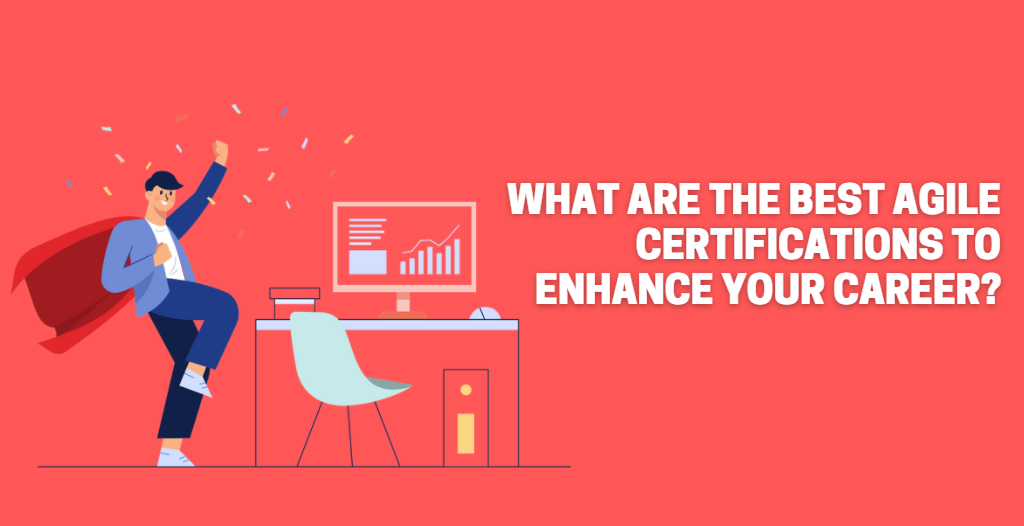 Agile certificates might be general, specialized to Scrum or other techniques, or they can help you improve your Agile scaling abilities. An Agile Certification acknowledges your grasp of Agile concepts and shows employers that you've studied and earned a credential. Agile certifications can help you advance your project management career, establish yourself as an Agile professional, and implement Agile techniques in your workplace while also empowering cross-functional teams. Though Agile principles started in software development, the flexible project management style is now used in other areas of company, such as IT, operations, marketing, and human resources.
The Agile certificates listed below include general ones that encompass the Agile ideology as a whole, certifications specific to Scrum (the most prevalent Agile technique), and a certification for expanding Agile in enterprises.
The Agile Certificates listed below include fundamental ones that encompass the Agile ideology as a whole, certifications specific to Scrum (the most prevalent Agile technique), and a certification for expanding Agile in enterprises.
DASM Certification
Disciplined Agile Scrum Master (DASM) is the course for you if you want to break away from frameworks and develop the optimal way of working (WoW) for you and your team. With the Disciplined Agile toolbox, you can develop ways to improve your procedures and drive greater team results.
This course will provide you all the knowledge, techniques, and methods you need to start utilising Disciplined Agile right away, including live, interactive sessions, activities, animations, supplemental reading, and more. In just two days, you'll learn about the basic agile and lean methods that DA supports, practise problem-solving with the tool set, and discover how to establish high-performance teams.
2. DASSM Certification
Disciplined Agile pulls together multiple activities such as solution delivery, enterprise architecture, portfolio management, security, finance, and vendor management to produce the best business outcomes, laying a solid basis for business agility. Organizations with high agility report more projects reaching original goals and business intent than organisations with low agility using the same methodologies (Source: PMI's Pulse of the Profession 2018).
As a result, there is an unprecedented need for educated Disciplined Agilest and experts with Scrum Master credentials. Top companies around the world are hiring Scrum Masters, including Google, Amazon, Walt Disney, LinkedIn, Polaris Laboratories, Roche, BBC, ExxonMobil, Verizon, Walmart, Dow Jones, and Tesla, with
job listings up 67 percent year over year. These well-known corporations throughout the world have implemented the Disciplined Agile methodology to improve business agility and become truly flexible organisations by reducing time-to-market, increasing quality, and improving employee morale.
Get the PMI® Alliance Disciplined Agile Senior Scrum Master (DASSM) Certification to improve your Scrum Master skills and take advantage of the rising demand across sectors.
Certified Agile Project Manager
The International Association of Project Managers (IAPM), a global organisation dedicated to developing the practical application of project management, offers this qualification. The IAPM offers four levels of certification, including Certified Agile Project Manager. The course covers how to plan, organise, and implement projects using Agile methodologies.
More information on the Certified Agile Project Manager certification test can be found here:
You'll have 80 minutes to complete this exam and answer 120 questions.
2. There are no prerequisites for obtaining this certification.
Passing percentage: 65 percent
This certification is offered by Scaled Agile for professionals who want to improve their capacity to scale enterprise Agile framework development. The organisation is known around the world as a pioneer in transitioning businesses into Lean-Agile environments.
More information on the SAFe Agilist certification may be found below:
1 .The exam will take 90 minutes and will consist of 45 multiple-choice questions.
2. Requirements: You must attend a 21-hour programme led by an Agile certified training partner to get the certification.
3. Passing percentage: 75 percent
Conclusion:
Many people have praised the advantages of implementing Agile into their teams, such as enhanced adaptability, transparency, and delivery speed. Getting a grasp of what makes Agile special can make you a better project manager and professional, whether you're learning the fundamentals of Agile or going right into mastering Scrum.