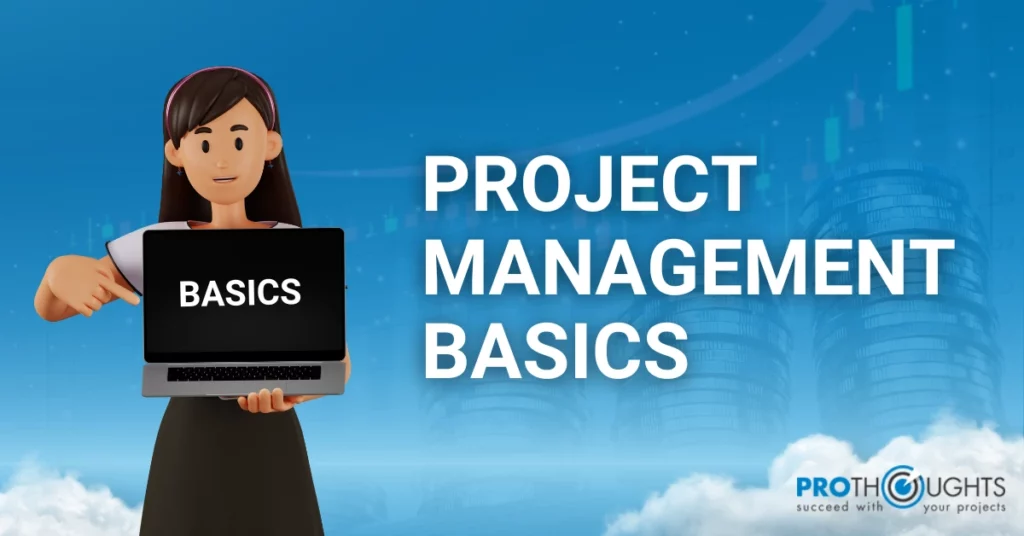 Looking to dive into the exciting world of project management? This step-by-step guide is designed to assist beginners in quickly and confidently navigating the project management basics. In this article, we will break down the fundamental concepts and provide you with a clear understanding of what project management is all about. We'll guide you through the entire process. So, what can project management do for you? With the right skills and knowledge, you can develop into a crucial component of any company by effectively planning, executing, and delivering successful projects. If you've heard of the PMP certification and wondered what it entails, this guide will also shed light on the critical aspects of becoming a certified project management professional.
In addition, whether you're new to project management or attempting to enhance your existing skills, this article will provide the foundation to start your journey successfully.
What are the Project Management Basics?
Project Management Basics encompass the fundamental principles, concepts, and techniques that are the cornerstone of effective project management. These essentials constitute the knowledge and practices required to initiate, plan, execute, monitor, control, and close a project.
Moreover, understanding project management basics is paramount for aspiring and seasoned project managers. Also, foundational principles provide the necessary framework for organizing and executing projects efficiently, leading to improved outcomes, reduced risks, and better resource utilization.
Delivering projects on schedule, on budget, and aligned with business goals is vital to achieving a  competitive global business environment. Therefore, the project manager needs to be familiar with fundamental concepts and have extensive experience in project management. Project managers have an incredibly complex assignment that blends analytical minds, organizational skills, and adept interpersonal abilities. Tools and software for project management that support projects at every stage of their life cycle are helpful to many PMs.
What is Project Management?
Planning, organizing, and overseeing tasks within a set budget and timeframe are all part of the project management process groups. It involves defining project objectives, creating a detailed plan, assigning responsibilities, monitoring progress, and making adjustments to ensure successful project completion. Additionally, project management is essential in various industries to efficiently deliver projects while meeting quality standards and stakeholder expectations. 
Moreover, the key to adequately implementing this practice is first to identify the issue at hand, then formulate a plan to address it, and finally carry out that plan until the issue is resolved. The process may seem simple, but a lot goes into it. So, with the proper project management plan, it will be completed on time and within budget.

1. Key Objectives
Project management's main objectives are to make sure that:
The Project concludes within the allotted scope, budget, and time

The Project meets the quality standards and goals set forth

Effective communication occurs among stakeholders

Risks are recognized and managed to reduce their adverse effects

Stakeholder expectations and needs are addressed and met
2. Project vs. Operations
Projects –

Projects are temporary endeavors with specific start and end dates. The projects are starting to produce something special, such as designing a new product, putting a software system in place, or building a structure. As a result, projects can be recognized based on their unique restrictions and objectives.
Operations –

On the other hand, operations are ongoing, repetitive activities that sustain an organization's core functions. Examples include daily customer service, manufacturing products, or managing IT infrastructure. Therefore, operations are continuous and aim for efficiency and stability.
Role of a Project Manager
The Roles of a project manager are as follows:
1. Responsibilities
An essential factor in a project's success is the project manager. Their responsibilities include:
Defining the Project's scope, objectives, and requirements

Creating a detailed project plan, including schedules, resource allocation, and budgets

Leading and motivating the project team

Monitoring progress, tracking performance, and making necessary adjustments

Managing project risks and issues

Ensuring effective communication among team members and stakeholders

Facilitating decision-making as well as problem-solving

Completing the project and recording the lessons learned
2. Skills Required
A broad skill set is required to manage projects successfully, such as:
Effective project managers are strong leaders who can inspire and guide their teams. They set a clear vision for the project, define roles and responsibilities, and create a sense of purpose among team members. Additionally, lead by example, demonstrate confidence, and provide direction, helping the team stay motivated and focused on achieving project goals.
It is the cornerstone of successful project management. Various stakeholders must be informed about project objectives, expectations, and updates, including team members, clients, and executives. Also, it not only includes verbal and written communication and active listening to understand others' perspectives and concerns.
Involves prioritizing tasks, allocating resources efficiently, and adhering to project schedules. Moreover, project managers must create realistic timelines, monitor progress, and adjust when necessary to ensure that the Project adheres to its program and deadlines.
Being organized is essential for managing the complexity of projects. Project managers must keep track of tasks, schedules, budgets, and documentation. Furthermore, organizational skills help set up effective project management systems and maintain order throughout the Project's lifecycle.
Projects often encounter unexpected challenges and roadblocks. Project managers must identify issues, analyze their root causes, and implement solutions. Therefore, effective problem-solving keeps the Project moving forward and minimizes disruptions.
Project managers frequently engage in negotiation, whether it's with team members, stakeholders, or vendors. Also, negotiation skills are valuable for resolving conflicts, securing necessary resources, and making decisions that benefit the Project while balancing competing interests.
It must anticipate and manage risks impacting project success. Also, it entails locating possible risks, evaluating their significance and likelihood, and creating plans to lessen or address them. Therefore, project risk management helps prevent issues from derailing the Project.
Budgeting and Financial Management
Understanding project finances is crucial for staying within budgetary constraints. Project managers must create and manage budgets to ensure the Project is financially sustainable, keep track of spending, and make wise financial decisions.
Adapting to changing circumstances is essential in project management. Projects can face unexpected developments; priorities shifts, or project scope management changes. Moreover, project managers must remain flexible and adjust their plans and strategies accordingly to keep the Project on course.
Establishing and keeping good relationships with stakeholders is crucial. Project managers must effectively engage with clients, team members, sponsors, and other stakeholders. Furthermore, it involves understanding their needs, managing expectations, and addressing concerns to ensure project alignment and success.
Therefore, these skills, combined with a deep understanding of project management methodologies and tools, enable project managers to excel in their roles, lead successful projects, and meet objectives and stakeholder expectations. A project manager can be more effective in a constantly changing and complex industry by continually developing and improving these skills.
Benefits of Learning Project Management Basics
The following are the benefits of learning project management basics:
1. Career Advancement
Understanding project management fundamentals can significantly boost your career. It indicates your capacity for project management and leadership, making you an invaluable asset to any company. Additionally, with PMP skills, you may qualify for higher-level roles with increased responsibilities and better compensation.
2. Improved Project Success Rates
Project management basics equip you with the knowledge and tools to effectively plan, execute, and monitor projects. Therefore, this leads to improved project success rates,  better provided to keep projects on track, within budget, and aligned with objectives.
3. Transferable Skills
Project management skills are highly transferable across various industries and roles. Besides traditional project management, these skills will be helpful in multiple contexts. Whether in IT, healthcare, marketing, or any other field, these PMP skills can enhance your performance and make you a versatile professional.
Incorporating project management basics into your skill set can open up new career opportunities, improve project-related achievements, and make you a more adaptable professional in today's dynamic job market.
What are the Project management Approaches?
There are several popular management approaches that organizations and managers employ to guide their operations and decision-making. These approaches vary based on the organization's goals, industry, and specific challenges. The following are some of the popular management approaches include:
Classical Management Approach –

Emphasizes principles of efficiency, hierarchy, and specialization. It includes scientific management, which focuses on optimizing processes and workflows, and administrative management, which emphasizes the organizational structure and management functions.
Behavioral Management Approach –

Recognizes the importance of understanding human behavior and psychology in management. It includes theories like the Hawthorne Effect, which suggests that social and psychological factors can influence employee productivity.
Contingency Management Approach –

Acknowledges that there is no one-size-fits-all approach to management. Instead, it argues that the best management practices depend on the specific situation or context, such as the organization's culture, goals, and external environment.
Lean Management –

From the manufacturing perspective,

lean project management

focuses on value-added operations to reduce waste and increase efficiency. Moreover, it emphasizes principles like reducing inventory, optimizing processes, and continuous improvement.
Agile Management –

Agile is commonly used in software development but has broader applications. Additionally, it promotes flexibility, adaptability, and collaboration in project management, allowing teams to respond to changing requirements and deliver incremental results.
A Brief Introduction to the PMP Basics
This section will delve into the core components of PMP basics, focusing on key concepts, methodologies, and tools. Additionally, we'll touch upon how these PMP basics align with the Project Management Professional (PMP) certification, a globally recognized credential for project managers.
The PMP, or Project Management Professional, is a globally recognized certification for professionals in project management. Therefore, PMP basics refer to the fundamental concepts and principles associated with this certification:
Certification Purpose –

The PMP certification is intended to certify a project manager's expertise in managing projects successfully. It demonstrates a professional's ability to lead and direct project teams to deliver successful outcomes.
Eligibility –

To be eligible for the PMP exam, candidates typically need at least three years of project management experience (or five years with a secondary degree) and 35 hours of project management education. Use the ProThoughts

PMP eligibility calculator

to check your eligibility for free.
PMBOK Guide –

The PMP certification is based on the (PMBOK) Guide, published by the (PMI) Project Management Institute. Additionally, the

PMBOK

Guide outlines standard

project management best practices

and processes.
Exam Content –

The

PMP exam

covers many project management topics, including people, processes, and business environment. Also, it assesses knowledge in areas like risk management, stakeholder engagement, and ethics. So, ready to Ace the PMP Exam? Start with the

PMP exam preparation

now!
Question Format –

PMP exam questions are typically scenario-based and may include multiple-choice, situational, and knowledge-based questions. Moreover, the exam evaluates knowledge and the application of

project management principles

in real-world situations.
More in detail:
Passing Score –

Candidates need to obtain a passing score on the PMP exam to earn the certification. PMI determines the passing score and may vary from one exam cycle to another.
Continuous Learning –

PMP-certified professionals must engage in ongoing professional development to maintain their certification. Therefore, it includes earning Professional Development Units (PDUs) by participating in relevant training and education.
Global Recognition –

PMP is internationally recognized and respected, making it a valuable credential for project managers seeking career advancement or new opportunities worldwide.
Benefits –

PMP certification can improve job prospects, increase earning potential, and enhance credibility as a project management professional.
Application Process –

Candidates must apply to PMI, meet the eligibility criteria, and pay the fee before scheduling and taking the PMP exam.
Conclusion
Project management basics provide a strong foundation for those who want to complete projects successfully while excelling in their careers. By embracing these fundamentals and staying aligned with evolving trends, you can confidently and effectively navigate the complex world of project management. Project management abilities are helpful regardless of your level of experience in the field. They can enhance your career prospects, improve your ability to lead and manage projects, and make you a more adaptable and practical professional. Furthermore, take courses or pursue certifications like Project Management Professional (PMP) to formalize your project management knowledge. So, Enroll in PMP certification online training and take the next step in your career!