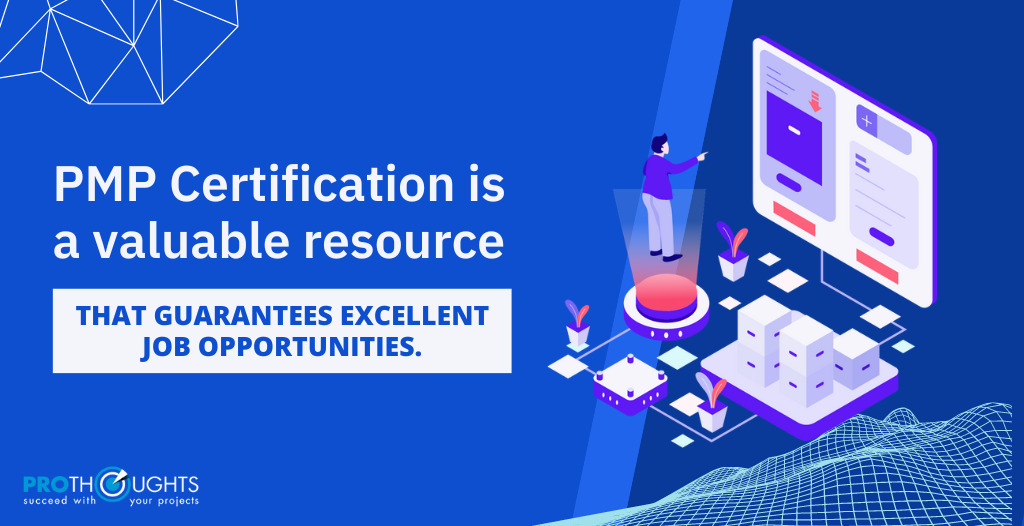 Through its certification program, the Project Management Institute (PMI) upholds the international standard for project management best practices, processes, methods, and professional ethics. Project Managers who have earned the Project Management Professional (PMP) certification from the PMI have the distinction of holding a well-respected professional credential. The project manager and the employer both benefit from holding a PMP certification.
Gaining a PMP Certification Has Several Advantages: Your Career Project management involves coordinating the team's efforts to achieve the project's goals while balancing the project's timetable, spending, and overall scope. It is a skill set that is employed in many ways every day all over the world, and it was only in the middle of the 20th century that it was formally recognized as a separate profession. In addition to providing you with more job options that pay more than those that don't require a PMP certification, getting a PMP certification also broadens your professional network and verifies your degree of expertise. Four advantages of holding a PMP certification are highlighted in the infographic that is supplied.
Is the PMP Exam Worth It? How PMP Training and Certification Helps Advance Careers.
The PMP Certification is worthwhile if you're driven to enhance your project management career at a larger organization or with high-budget or complex projects. The PMP certification can assist in achieving that. No matter in which sector they work, PMP certification holders receive the following benefits, according to research from PMI and independent employment websites
Builds a resume

Demonstrates industry acceptance

Confirms abilities and knowledge

It raises potential income

Increasing professional networking

Expands work possibilities

Shows commitment to one's career
Can a PMP course boost your career?
Project managers are enthusiastic, goal-oriented individuals who direct work from initial concepts to finished deliverables, goods, and services. Having a current Project Management Professional (PMP) certification is obvious proof of your dedication to being the best, regardless of the industry in which you use your project management talents.
Many aspirants may wonder if the Project Management Course is still valuable in 2022. Yes, your proficiency in the knowledge areas and process groups that comprise the project environment is validated by the PMP certification. It gives you an internationally accepted benchmark for your knowledge and abilities and gives your CV measurable added worth. There are already more than 1,000,000 PMPs in the world, and this number is rising.
The decision of whether the PMP is worthwhile after all the extra work is ultimately up to you. By responding to these inquiries, you can determine whether the PMP is worthwhile:
1- Do you think getting your PMP certification is worthwhile?
2- Do you value it highly enough to invest the time and effort necessary to earn this credential?
3- Is your profession one that will value this exam's recognition of your professional accomplishments?
The PMP certification is unquestionably worthwhile if you respond positively to any of those questions. The PMP certification may require a lot of work and study, but it is well worth the effort for anyone looking to develop their career given the long-lasting career and compensation potential only achievable with a PMP certification.
In which industries does PMP Certification have excellent job opportunities?
Project Management jobs are in demand in a number of sectors, including those in transportation, healthcare, technology, building, manufacturing, marketing, banking, and information technology. In fact, the top 13 project management certifications list published by CIO magazine included the PMI's PMP certification. Major companies from a wide range of industries have active job postings in the job listings for U.S. project managers.
Most credentials in project management are worthwhile. The market for project talent is always growing. If you have the necessary certifications for your position, you might be able to:
The majority of project management credentials are worthwhile. Demand for project talent is always rising. With the appropriate certification for your position, you could:
More management confidence in difficult initiatives

Improved market value for your persona

Increased compensation

Greater analysis around your goals for professional development
To Conclude:
Project management is a career that is not restricted by any industry or location; by 2027, twenty two million jobs related to project management are expected, according to current research. Project managers who successfully achieve Project Management Professional certification status from the PMI obtain benefits for their personal careers as well as add value to the organization of their employer. Find out more about the prerequisites for a PMP certification with ProThoughts- A most recognized PMP institution for Project Management.
Name
Date & Time
Online
May Batch (4 Days – Weekend) – PMP Online


20th, 21st, 27th & 28th May 2023
9:00am to 6:00pm, IST
Know More
June Batch (4 Days – Weekend) – PMP Online


17th, 18th, 24th, 25th June 2023
9:00am to 6:00pm, IST
Know More