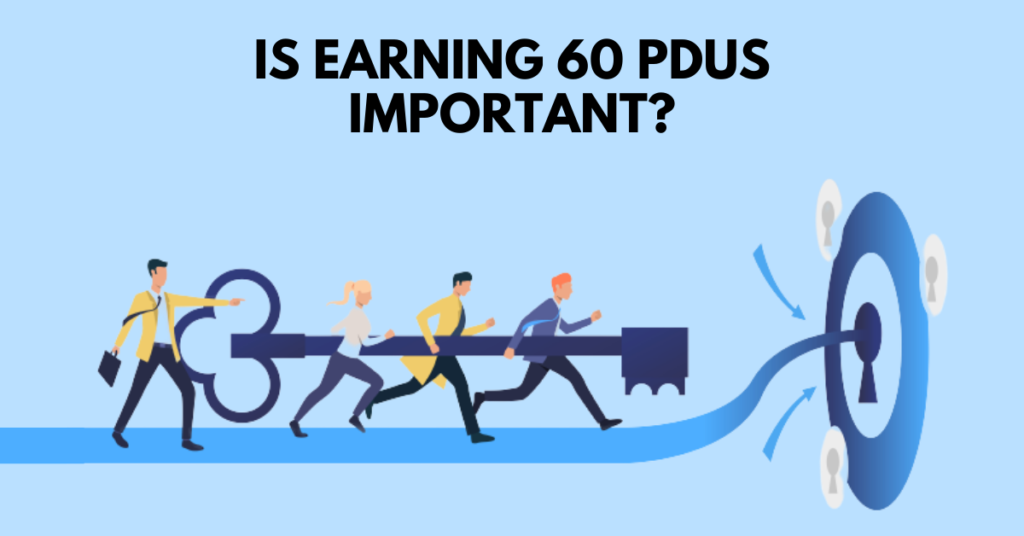 What is PDU
Professional Development Units (PDUs) are one-hour blocks of time that you spend learning, teaching others, or volunteering. By accruing and tracking these over three years, you can maintain your certification status with PMI.
PDUs are divided into two categories — Education and Giving Back to the Profession.
Education PDUs – These PDUs can be gained at professional seminars, webinars, classes, or even self-directed learning.

Giving Back PDUs- They are earned for time spent volunteering, mentoring, working with professional groups, and more.
PDU Requirements
Earning a PMP® certification is a big step in your career growth. But that's not the end of your PMP® certification journey. You need to renew your credentials every three years in order to maintain being PMP® certified by meeting the PDU requirements under PMI's Continuing Certification Requirements (CCR).
Your first certification/CCR cycle begins on the day you clear the exam. Your first certification/CCR cycle ends on the third anniversary day of passing the exam. So, you will need to renew your PMP credential one day prior to the third anniversary of passing the exam. Your next CCR cycle also starts on the third anniversary of passing the exam.
If you are a holder of Project Management Professional (PMP), Program Management Professional (PgMP), Portfolio Management Professional (PfMP) or Professional in Business Analysis (PMI-PBA) certification, you are compelled to earn 60 PDUs in a 3-year cycle. These 60 PDUs are further broken down as-
35 Minimum Education PDUs

25 Maximum Giving Back PDUs
PMI Talent Triangle and PDUs- Importance of PDUs
PMI continuously tries to keep its project management certifications relevant to the industry and organization requirements. And to do so, it takes contributions from industry experts to keep revising the content and pattern of exams. The Project Management Institute (PMI) established and revealed its Talent Triangle™ in the year 2015. PMI unambiguously declared the areas of competence that a present-day project manager needs to consider.
The blend of skills valued by employers stressed by the PMI Talent Triangle™ is technical, leadership, and strategic and business management. This structure plays a pivotal role in your ongoing professional development.
The capabilities can be defined as follows:
Technical

: This competency encompasses knowledge, skills, and behaviours related to the specific domains of program, project, and portfolio management. It involves the technical facets of performing your job or role.More than half (66%) of organizations say that technical project skills are the most challenging to find. However, 96% indicate that these skills are the most teachable.

Leadership

: This competency encompasses the knowledge, behaviours, and skills involved in the ability to motivate, guide, and direct others to achieve a goal. Three-quarters (75%) of organizations rank leadership skills as the most critical for successfully navigating complex projects. 71% of organizations rank leadership skills as the most vital for the long-term success of Project managers.

Strategic and Business Management

: This competency comprises the knowledge and expertise within the organization that helps you align your team to improve performance and ensure better delivery of business outcomes. Businesses that align their talent to organizational strategy produce a 72% higher average project success rate, as compared to 58% for those without it.
PMP PDU Prerequisites #1 – Minimum 35 Education PMP PDUs
The first PMP PDU requirement is that a PMP certified professional must earn at least 35 education PMP PDUs. The education category has the following sources for earning PDUs:
Course or Training

Organization Meetings

Online or Digital Media

Read

Informal Learning
Furthermore, these education PDUs must contain at least 8 PDUs from each category of the PMI talent. Once you achieve the 8 PDUs from each category, the remaining 11 PDUs of the education category can be from any of the PMI talent triangle categories. Note that 35 PDU from the education category is the minimum PMP PDU limit requirement. Hence, you can complete all of your 60 PMP PDU needs from the education category to Earn 60 PDUs through the education category. You can also join Earn 60 PDU Course and gain 60 PDUs in one go by completing MS project 2016 Training.
PMP PDU Prerequisites #2 – Maximum 25 Giving Back PMP PDUs
The second PMI PDU category is the giving back category. A PMP certified professional can submit 25 PMP PDU at most from the giving back category. Giving Back PMI PDU category has the following sources for earning PDUs:
Work as Practitioner

Create Content

Give a Presentation.

Share Knowledge

Volunteer
In add-on, out of these PMP PDUs from the giving back category, PMP PDU limit for the Work as Practitioner category is a maximum of 8 PDUs. Work as a practitioner covers the project management activities you will be doing in your job.
Recording Your PDU Activities
You are responsible for recording your PDU activities as they occur. One of the most effective ways to record PDUs is by using the online CCR System. This system also lets you to explore for activities that award PDUs as well as to view your transcript to confirm that PDUs have been posted.
Although the PMI aids you to record PDUs using the online system, you may download, complete, and send electronic or paper copies of the PDU Activity Reporting Form found online. This should be done upon accomplishment of each activity. You only need to send the PDU Activity Reporting Form. You do not need to send supporting documentation for activities reported at this point but should retain such documentation in the event you are audited.
Why Earning 60 PDUs is Important
Earning 60 PDUs is a way of upgrading oneself and helping the community. By learning new skills and attending webinars, taking courses helps keep PMP holders skills updated and industry-relevant and help the community grow and be skilled. PMP aspirants must understand this – PMI wants to make sure that the PMP Exam is an exact reflection of the tasks, knowledge, and skills project management professionals perform and need on a daily basis. If PMI didn't consistently add new methods and remove obsolete ones, then PMP aspirants like yourself would still be tested on obsolete tools and techniques that were used 30 years ago when the PMP exam first came into being.
Join our Earn 60 PDU Course and get your 60 PDUs in one go by completing MS project 2016 Training.
If you have any questions or feedback, then please drop a comment. To Know more about the process to earn PDUs contact + 91-9137309091.