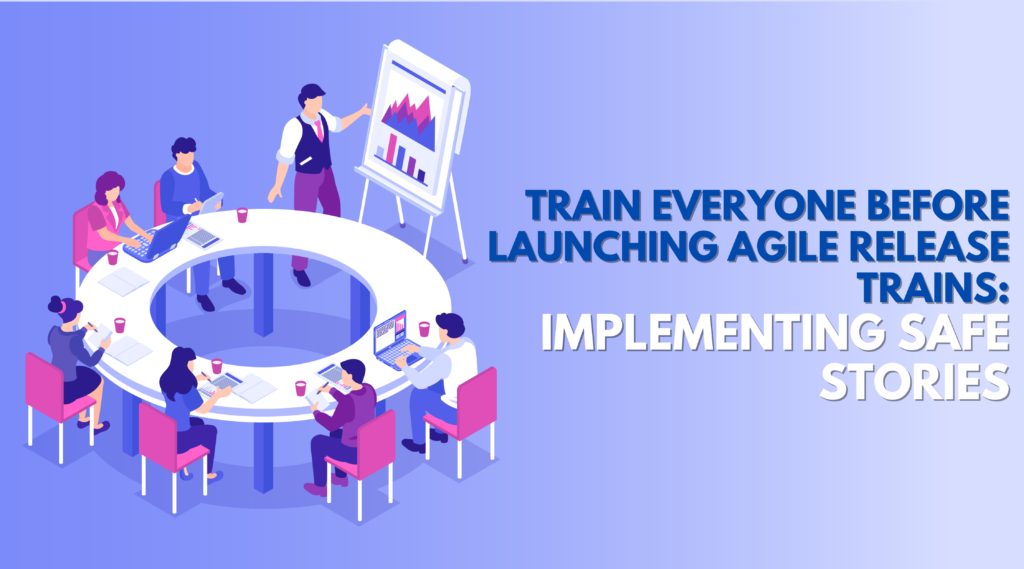 I am a SAFe Program Consultant working with Scaled Agile Programs since 2014. In the last 7 years, I have seen numerous customers and journeys of Scaled Agile implementations across Fortune 500 Majors.
Here is a story#1 from a global automotive major.
Fact or Fiction:
Traditional waterfall is the best approach for ERP projects

Agile cannot be used for ERP Project

Transition from Waterfall to Agile is easy
Scenario: Here is a Multi-Year Program – PeopleSoft Implementation.
Wave-1:
Project Life Cycle – 19 months,

Business SMEs split in 11 countries

Development teams in 2 countries

Waterfall Approach
Challenges Faced:

With sequential development, high volume of CR's as User engagement was towards the end

Changes to the needs were difficult to contain

Delayed start of each subsequent phase

Meetings at odd times due to aggressive timelines

Inaccurate estimations leading to resource utilizations at peak, long working hours impacting employee morale
Fact – Traditional waterfall is a good approach for ERP projects, Not the Best!!!
Wave-2:
Project Life Cycle – 19 months

Business SMEs split in 9 countries

Development teams in 3 countries

Overlap with Wave 3 – significantly limiting SME availability

Scope Comparison: Significant increase in the number of Interfaces, Customizations and Population, Higher Complexity, No Change in the Delivery time
Objectives towards the Shift Towards Agile ways of working:
Deliver on time

Effective distribution of SME time

Increase team productivity

Maintain cross functional alignment
The Scaled Agile Journey from Waterfall:
Given the complexity of this program, the leadership team had decided to adopt Scaled Agile Framework (SAFe) for the Wave-2 of Solution delivery. However, given that this organization had its own point of view on adopting team level agile practices, they wanted to pick up few practices from SAFe like PI Planning, and customize their approach to Agile.
They conceptualized a 6-week iteration cycle citing their execution complexity and challenges, lack of training had an impact on building shared understanding across the train. The Value streams were not identified, ART design did not happen. Rather they started implementing few practices from Essential SAFe, without going through the roadmap.
After the initial iterations, due to lack of co-ordination, there was no working software for the System demo, as all work except development and functional testing were batched and queued to be picked up for later delivery. Obviously, end to end testing was deferred, and this whole execution was cited as a Hybrid delivery model.
After the first PI, we conducted an Inspect and Adapt Workshop during which root-cause analysis on the systemic problems were done. That surfaced many of their underlying problems and causes behind them.
Recommendations or Actions Implemented:
Train everyone in

SAFe Certification

to build a shared understanding on DoD (Definition of Done)

Conduct a User Story Writing Workshop and Agile estimation practices

DevOps Health radar to reflect on State of DevOps Adoption

Reduce iteration length to 2-weeks

Team Topologies within the ART needs to be reviewed and redesigned. Suggestive of need for Value Streams and ART Identification workshop.

Decision of Content Authority is final at each level in the framework like Pos and PMs at team and program level respectively.
Conclusion:
Taking a Step Back, had we followed the guided SAFe Implementation Roadmap, we could have minimized the cost of failure, gone through a structured and proven approach to implementing change in an organization, while still working towards scaling and sustaining the change in the long term.
Distributed ARTs are here to stay, the pandemic has shown us that even remote ARTs can work. Scaling Agility is NOT limited to adding more roles and ceremonies in the organization, it should help improve flow of work in the system and help become effective and efficient. This cannot be achieved without systemic constraints identified timely and resolved.
Training leaders before launching ARTs will help management to lead the change, as only the management can change the system.
Story to be continued in the next blog.

Name
Date & Time
Online
2 days Weekend SAFe Certification Training Online


5th & 6th March 2022
Sat and Sun- 9.00am to 6.00pm IST
Know More
2 days Weekend SAFe Certification Training Online


19th & 20th April 2022
Sat and Sun- 9.00am to 6.00pm IST
Know More