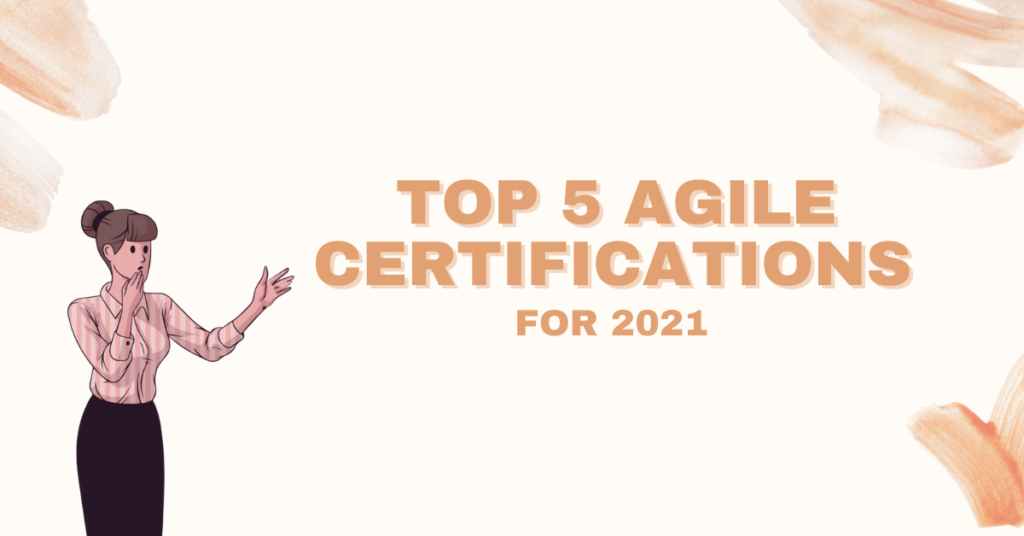 Agile has revolutionized the way industries are managing software development without the use of traditional software development methodologies. Companies are now able to build improved products that advance through specification adjustments, customer feedback, and constant testing methods. To add to this, Agile introduces value and problem-solving.
Upskilling has always been vital, but the economic and job uncertainty of 2020 and beyond led by the pandemic has further knocked that point home. Acquiring a relevant Agile certification is a great way to start or accelerate your career in 2021.
But, how do you know which Agile certifications are the most desirable and valuable – and therefore likely to lead to higher earning potential and market value?
Who should sign up for the Agile Certification and training?
Agile certification training will benefit the following professionals:
Project Managers

Product Managers

Team Leaders

Software Engineers

Business Analysts
Here we list the

top 5 Agile certifications
1. PMI Agile Certified Practitioner (PMI-ACP) from PMI
To begin our list, we choose PMI Agile Certified Practitioner (PMI-ACP) from the Project Management Institute, because it is one of the fastest-growing and the most sought-after certification. it has become a gold standard for agile proficiency, as seen by the different companies.
Who can take up this certification?
If you work on agile teams or if your organization is adopting agile practices, the PMI-ACP is a good choice for you. The PMI-ACP is proof of your real-world, hands-on experience and skill as part of an agile team. Aspirants needs to have 21 Contact Hours by Training in agile practices from PMI REP
2. Disciplined Agile Scrum Master (DASM) Certification
DASM provides a holistic knowledge about the Scrum and Lean cycle and lays the foundations of Scrum and Lean to be used in Agile projects.
As a Certified Discipline Agile Scrum Master (DASM), you are equipped with the knowledge of different Agile life cycles and understand the context wherein which lifecycle will be more applicable.
Who can take up this certification?
Disciplined Agile Certification is designed for freshers, If you don't have any experience in Agile (Scrum) and Lean, we recommend you opt for a paid additional 2-days foundation course to help you comprehend and understand the Disciplined Agile concepts better before opting for certification exam.
3. Certified Scrum Master (CSM) from Scrum Alliance
CSM certification proves your ability to learn to think in terms of Scrum principles and help your Scrum team perform at the best possible level. In addition to a strong understanding of Scrum Framework's fundamentals, holding a globally recognized certification of Scrum Master such as CSM will impress your employers.
Who can take up this certification?
This certification is designed to prepare you to become a Scrum Master. It is suitable for professionals in roles such as Product Owner, Iteration Manager, Program Managers, and other managerial positions
4. Disciplined Agile Senior Scrum Master (DASSM) Certification
Disciplined Agile Senior Scrum Master (DASSM) is a 2-day instructor-led course for skilled agile practitioners that educates you how to use the Disciplined Agile (DA) tool kit to improve how teams work, work with collaborators within your organization, and solve a array of complex problems.
Who can take up this certification?
Aspirants need to have at least two years of experience working on an agile team in a leadership role, like Disciplined Agile scrum master, scrum master, product owner, architecture owner, etc. and a two days of training from a disciplined agile training partner
5. SAFe Agile Certification from Scaled Agile
Scaled Agile Framework, or SAFe, has become a framework of choice for enterprises that wish to succeed in the digital age with business agility. Scaled Agile, Inc. is the certifying body of the Scaled Agile Framework and leading provider of SAFe courses.
Who can take up this certification?
This SAFe® Agile certification training course is appropriate for Somebody wishing to aid their organization in the implementation of a Lean-Agile framework should take this course
Here we list the top 5 Agile certifications that you should look out for in 2021.If you think we have missed any certification, please do let us know in the comment section.