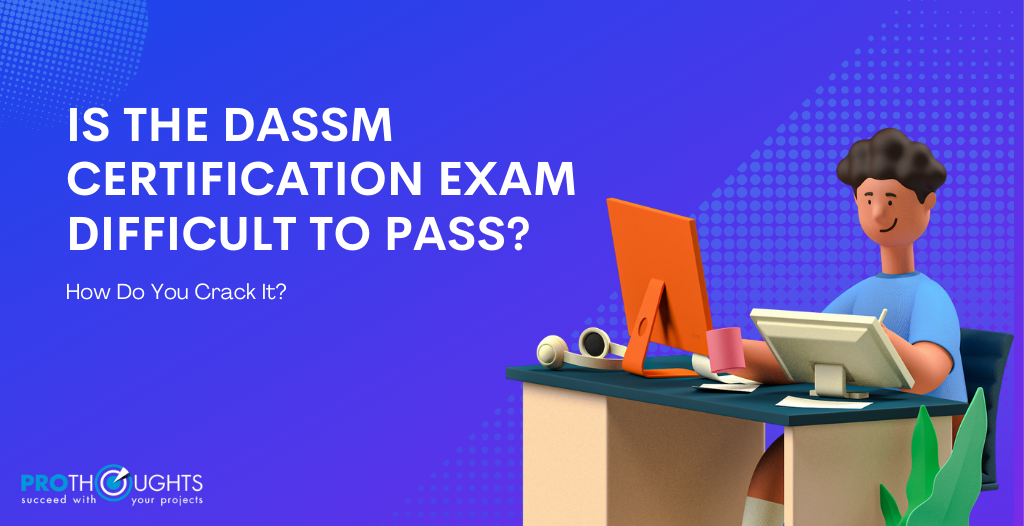 Nowadays without much effort, you can obtain your Disciplined Agile Certification. Both the Disciplined Agile Senior Scrum Master ( DASSM ) and the Disciplined Agile Scrum Master (DASM) certifications fall under the same category. However, the DASM, PMI-ACP, and DASSM are different from each other: The PMI-ACP and the DASSM both require experience, but the DASM is an entry-level qualification and does not require experience. Students must take a full-fledged training course for the DASM and DASSM before attempting the exam.
Continue reading to find out more about the successful key to passing the exam. You can also visit ProThoughts, enroll in a course, get ready for the Disciplined Agile certification exam, and finally pass it with the help of our guidance and directions.
Exam Specifics;
The examination consists of 50 multiple-choice questions and is taken online. Throughout the test, all questions are thrown out at random. The overview, lesson, and survey each takes 30 minutes of the 120-minute exam session; the exam itself can take up to 90 minutes to complete.
Either the instructor-led DASSM course provided by a PMI Authorized Training Provider or the DASSM eLearning Online Course must be successfully completed in order to receive the certification.
Those who have finished the course are eligible to apply for the certification exam. To be qualified for the DASSM certification, you must have 2 years of work experience in an agile team, preferably in a leadership capacity including a Disciplined Agile scrum master, product owner, scrum master, or architectural owner.
How to become DASSM certified
Obtain a current understanding of Disciplined Agile best practices and expand your knowledge with PMI's Disciplined Agile certifications. Utilize networking possibilities with the top professionals in the field by certifying your competence with the DASSM.
Start by following these easy steps to earn your DASSM certification.
3 easy steps to become a DASSM Certified;
Get educated:

Learn with ProThoughts, a Disciplined Agile Partner and PMI Premier Authorized Training Partner.

Examine the DASSM:

Using the eligibility number you receive from PMI after finishing the program, arrange to take your certification exam at the ProThoughts testing facility or online using the multiple-choice testing options. Take the 90-minute, closed-book, multiple-choice exam and score at least 70% to pass (35 out of 50 questions right).

Become DASSM Certified:

You are designated as a Disciplined Agile Senior Scrum Master after passing the exam.
Get Certified and achieve goals from your Disciplined Agile Training with ProThoughts
ProThoughts Solutions is a PMI (Project Management Institute) Premier Partner. We provide a global platform that might be your one-stop shop for all program management, project management, and agile management requirements. ProThoughts offers a variety of certification-based learning options, as well as top-notch material.
ProThoughts is proud to serve over 15,000 professionals worldwide as well as more than 150 companies, including Reliance Industries, SBI, Tata Consultancy, Morgan Hector, Nokia, Glenmark, IIM Ahmedabad, Tata Group companies and much more. ProThoughts also provides tools and resources to effectively impart information and lessons learnt and use them in the real project management world.
Regardless of where you take the mock exam, ProMock is developed with cutting-edge features and the most slashing benefits. Experts in the DA Domain created and developed the ProMock DASSM Exam Simulator. It is one such exam simulator that provides two distinct Mock Tests with a variety of questions to guarantee that you pass your DASSM Exam on your first try.
Each practice test has 100 questions, each of which is distinct. This is consistent with the DASSM certification exam outline provided by PMI. It includes the following benefits:
2 Different Mock Exams

50 inquiries each

90 minutes for each practice exam

75% % means you are passed
These Mock tests have been utilized by numerous Practitioners and Aspirants who found it useful in achieving their DASSM certification. It's among the best methods for getting ready for the DASSM Certification Exam. You may be confident that this Mock Test will give you the confidence you need to ace the certification exam the first time!
Professionals with knowledge of Agile principles and project management tools are highly sought after in a variety of industries. These experts primarily work in the software industry. An expert mastery of project management methodologies, such as SAFe, Scrum, Kanban, Agile, and DSDM, is demonstrated by an Agile-based certification. Agile groups and PMI offer certificates with varying degrees of professional expertise and knowledge.
Coming towards the conclusion;
DASSM certification is just like other competitive exams which are easier to crack if you study properly and follow all the guidelines. However, with ProThoughts, and ProMock simulator you will make your preparation stronger and moreover, it will give you the assurance necessary to successfully complete the certification.