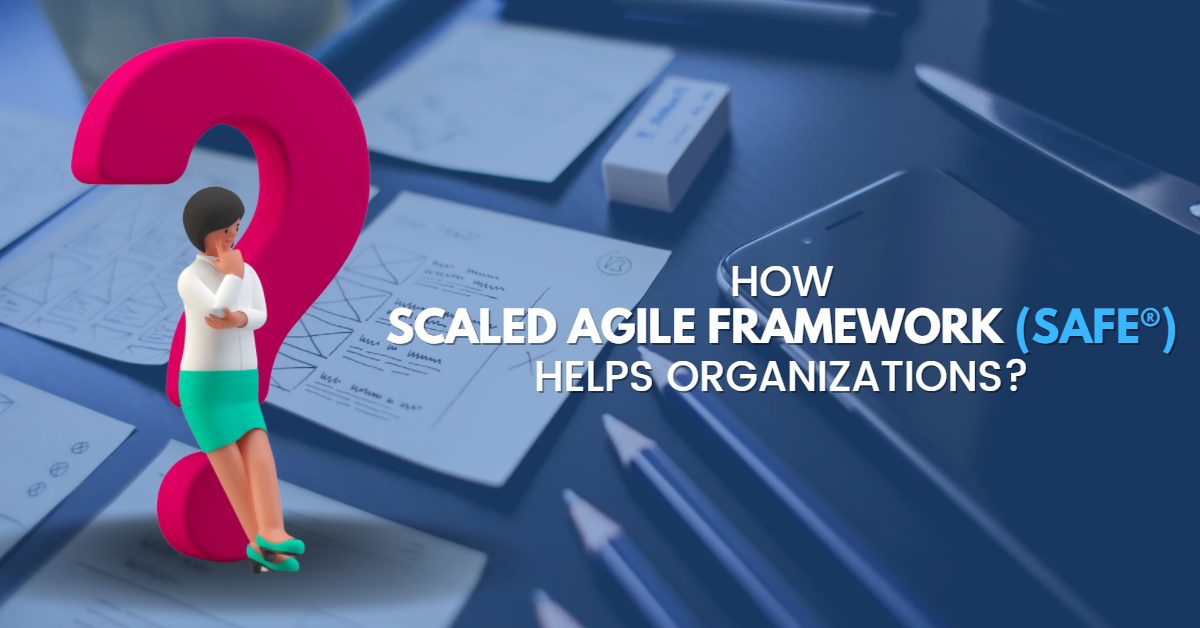 Scaled Agile Framework (SAFe®) provides a comprehensive approach to implementing Agile at scale in your organization based on a huge body of knowledge—Lean Thinking, Lean Product Development, Systems Engineering, DevOps, Systems Thinking, Kanban, and Agile to name a few. It's trusted, customizable, and sustainable. The knowledge of the Framework isn't a one-time learning event. It's an ongoing process. The pace of innovation is constant; Scaled Agile continually updates the Framework with what is learnt from time to time.
SAFe is built around the Seven Core Competencies of the Lean Enterprise that are critical to achieving true Business Agility for sustaining competitive advantage in an increasingly digital age.
With five major updates since its initial release in 2011, SAFe has grown with the marketplace while uncovering new and better ways of developing software and systems. Although new versions of the SAFe Big Picture are released only occasionally, the Framework knowledge base is continuously updated with new and improved guidance between releases.
SAFe Agile Training offers role-based training programs that give insights and knowledge required for various roles to function in your organization. This helps organizations clearly define Roles & Responsibilities thus helping clarity on the roles.
SAFe suggests a proven implementation roadmap to implement SAFe in your organization.
SAFe Certification builds on Agile's foundation of principles and values by providing specific guidance for scaling in large, complex, distributed, or high-compliance settings. SAFe extends agile principles from the team level to teams of agile teams and portfolios, creating efficiencies and linking company strategy to execution. SAFe integrates agile-adjacent principles such as Lean, DevOps, and systems thinking to provide an effective, continuously improving system, updated with customer learnings and the latest thinking and practices.
Some role-based certification courses from SAFe® are listed below:
Leading SAFe® (SAFe® Agilist – SAFe® SA)
SAFe® Product Owner / Product Manager (SAFe® POPM certification)
SAFe® DevOps Practitioner (SAFe® SDP)
SAFe® Scrum Master (SAFe® SSM)
SAFe® Advanced Scrum Master (SAFe® ASM)
SAFe® for Teams (SAFe® Practitioner – SAFe® SP)
SAFe® Release Train Engineer (RTE)
Benefits of SAFe®
As echoed by many customers of SAFe, the SAFe framework supports and steers improvement in Employee Engagement, dramatic enhancement in Quality and Productivity, and faster Time-To-Market.
You will learn knowledge from a vast community:
The SAFe Framework is supported by the SAFe Community Platform, Customer Success Team, and an extensive network of 400+ Scaled Agile Partners providing platform, training, consulting, and implementation services in almost every region of the world. And while every business situation is unique, organizations can use the SAFe Implementation Roadmap – the most tested and proven method for guiding the organizational changes needed to deliver results.
How 'Leading SAFe®' (SAFe® Agilist – SA) certification course helps me
?
Business agility relies on people with the expertise to lead successful transformations. Maybe you want to grow in your role at your current company or seek new career opportunities outside your organization. By earning Leading SAFe certification, you'll expand your skills and experience and be empowered to play a key role in driving business transformation in your organization.
Leading SAFe® Certification course answers the questions:
What is SAFe?
What is business agility and how does SAFe support it?
How does an organization get started Scaled Agile Framework®?
For leaders of a Lean-Agile change initiative to develop a Lean-Agile Mindset and apply the principles and practices of the Scaled Agile Framework® (SAFe®) to support Agile Teams, Programs, and Program Portfolio Management. Coordinate and lead a Lean-Agile transformation at enterprise scale.
Leading SAFe® offers you an introduction to the foundations of SAFe, and provides the principles and practices to drive your Lean-Agile transformation with confidence. The course also offers the guidance and tools you need to lead effectively in remote environments with distributed teams.
Leading SAFe Course helps discover how companies can build business agility, and how to make SAFe work inside your organization. You'll learn how SAFe helps you improve quality, productivity, employee engagement, and time-to-market. You'll come away with an understanding of how to align your entire organization around the same clear Objectives, and how to improve the Flow of Value and work from Strategy to Delivery. You'll learn what makes companies more Customer-centric and how to run key SAFe Alignment and Planning events, like Program Increment (PI) planning.
'Leading SAFe (SAFe SA)' is a comprehensive course that helps you equip with the holistic knowledge of Scaled Agile Framework (SAFe) that can be readily be used to transform your organization. The key learning objectives are designed to provide you with sufficient information in supporting and leading a SAFe transformation, due to its specially designed course contents which are summarized below:
Helps you understand thriving in this digital age with Business Agility

You will comprehend the seven Core Competencies of Business Agility and this helps you to build required competencies on your teams and directly contribute to success in your organization's Lean-Agile journey.

You will learn how to embrace Lean-Agile mindset and apply core values and principles. This helps you to become a Lean-Agile leader within your organization.

You will know how to prepare teams that can deliver value faster.

You will explore customer-centricity, learn how to prioritize program backlog with Weighted Shortest Job Fist (WSJF).

You will participate in

Program Increment (PI)

planning to support the planning program deliverables, and emphasize the importance of Continuous Delivery Pipeline and DevOps.

You will know how to execute iterations of incremental value delivery, and improving the systems.

This course teaches you the elements of Portfolio and their purpose, constructing strategic themes, constructing a Portfolio Kanban.

You will acquire the knowledge on Lean Portfolio Management responsibilities.

You will comprehend the difference between traditional and Lean Agile Budgeting.

You will learn the behaviors necessary to Lead by example, techniques for leading successful change, the details of steps in the SAFe Implementation Roadmap.
Leading SAFe® (SAFe Agilist – SAFe SA) course is one of the top courses that Scaled Agile, Inc Offers. As this course provides one with the core knowledge needed to lead the change for successful Lea-Agile transformation, acquiring Leading SAFe® certification is a key milestone in your journey towards contributing to Business Agility as it provides comprehensive knowledge that one needs to learn to excel in career in the Lean-Agile world.
As a certified SAFe® SA, with your demonstrated knowledge, competency and contribution, you will be recognized as an instrumental player in your organization's journey towards Lea-Agile.

Name
Date & Time
Online
2 days Weekend SAFe Certification Training Online


5th & 6th March 2022
Sat and Sun- 9.00am to 6.00pm IST
Know More
2 days Weekend SAFe Certification Training Online


19th & 20th April 2022
Sat and Sun- 9.00am to 6.00pm IST
Know More