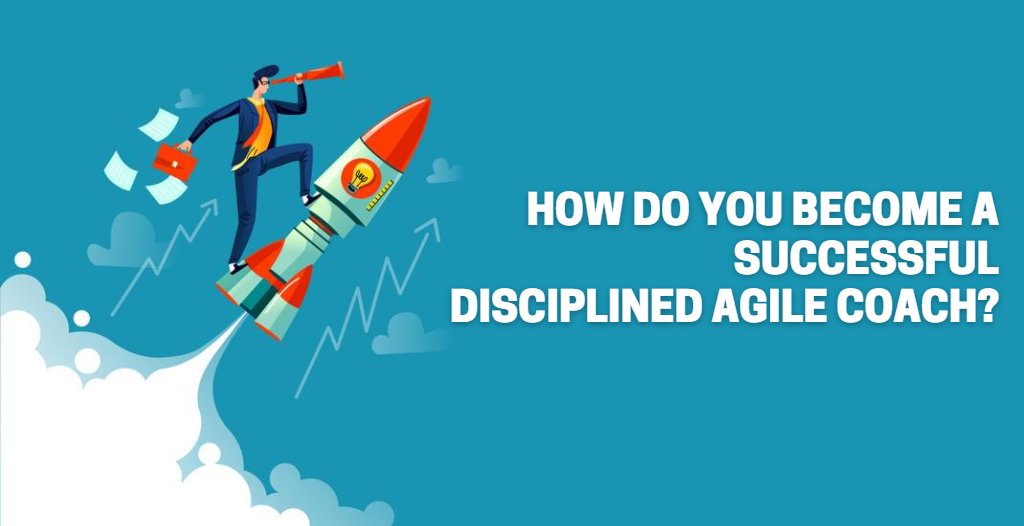 An Disciplined Agile Coach needs a combination of project management experience and leadership skills. The role of an Agile coach has been originated in the IT industry but at present it in demand across every other industry. If you are in the field of project management and are looking to upskill for new and exciting roles, becoming an Agile coach is a great opportunity to take the next step in your career. The Agile coach makes sure that the team is working together and most effectively.
To start the with basics:
1) You must start adapting to Agile practices in your current role. This is because recruiters for Agile coach roles will want to see practical experience. This will also help to boost your confidence while leading teams in the most efficient way.
2) You must complete the DASM training and get the DASM Certification. DASM stands for Disciplined Agile Scrum Master. Being certified in Agile is not enough on its own to get the Agile role. This will also show your willingness to learn and it will ensure that you stay up to date with the best practices. Once you are DASM certified you can go for the DASSM Certification. DASSM stands for Disciplined Agile Senior Scrum Master but some eligibility criteria need to be considered for getting the DASSM certification after going through the DASSM training. The DASM certification has no eligibility criteria.
3) You can go to meetups related to Agile or Scrum and meet other experienced people in the field. You can get a better understanding of the entire process once you interact with people who have a fair amount of experience in the field. This will leave you with different standpoints which will help you in making decisions
4) You can carry out your research through various channels like YouTube videos, blogs, and seminars. Here is a blog from ProThoughts Solutions that shows how Disciplined Agile is transforming organizations globally. <Insert blog from ProThoughts website>. ProThoughts Solutions is one of the ATP of the Project Management Institute
To become an Agile coach, you must be ready to take on some responsibilities which include:
1) Asses and analyze gaps in knowledge and understand how Agile works and take the team through training sessions
2) Proactively resolve conflicts between teams and people
3) Identify and manage dependencies between your team and other teams
4) Maintain proper metrics which can help in tracking the team's performance
5) Consultation and facilitation skills in leading teams in the improvement of agile methodologies.
6) Skilled in leading meetings, and driving decisions with good negotiation skills
7) Develop standards for the agile training process
8) Integrate related methodologies in the team and in the company
In conclusion, a good Agile Coach should be ready to make decisions and live up to them and stay patient during the entire training and implementation process.