With PMP turning into Agile mode as well, many are confused whether you need any specialized training of Agile? It seems PMP is an all encompassing solution but then what is PMI's latest novel offering – Disciplined Agile. Doesn't it talk about Agile in specific?
Many new aspirants to project management are unsure which one to go for first? Are they similar or distinctly different? Or are they complementary, coming from the same institute?
There seems to be no literature on this aspect of DA V/s PMP, when we have started writing about it.
This article gives a good insight on the similarities and differences of PMP and Disciplined Agile, arguably the 2 best offerings from PMI. One (PMP – Project Management Professional) which has stood the test of time and undergone many changes right from the 1990s to 2021. And the new novel Tool-kit, Disciplined Agile, which offers Business Agility for teams and enterprises to transform their Way of Working (WoW).
Let's explore these 2 big certifications in more detail.
PMP Certification
ProThoughts offer the latest PMP Certification and is one of their flagship programs. ProThoughts PMP SUCCESS® certification is one of the most popular certifications courses with ProThoughts Game based Interactive Methodology and Superior content.
The PMP has undergone changes right from the 1st edition launched in 1996 to the current 6th edition, which has introduced Agile questions and to the upcoming 7th edition, which advocates a relatively drastic change in the way PMP is positioned.
The PMP – 7th edition changes its positioning while retaining most of its content primarily Knowledge Areas and Process Groups. However, it repackages the same content and positions differently this time.

Why PMP Certification?
The PMP is a classic combination of Project Management Standard and the Guide – 2 books combined together gives the PMBoK – Project Management Body of Knowledge.
The Standard of Project Management contains the non-prescriptive things, which are the erstwhile Process Groups. Prescriptive things are the Do's and Don'ts, analogy similar to the doctor who gives you prescriptions to cure your illness. The Standards are non-prescriptive though (exactly opposite to prescriptive) and can be applied across all the projects.
The Guide are your practices – The Knowledge Areas from the current 6th edition and can be applicable as per your project.
The entire unison of the Standard and Guide gives you the Project Output.
The PMBoK in any new avatar undergoes research conducted by PMI to incorporate the current and future benchmarks, the external environments and many more things to develop a robust standard, as seen in the below diagram. This is an extensive effort and study conducted by PMI over years to give a robust certification admired by industry and apex bodies throughout the world.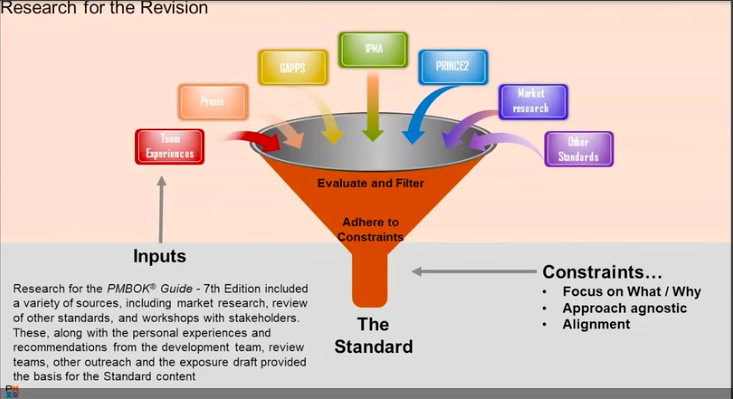 Kindly refer to PMBoK 7th edition – What's new to get a detailed reading on PMBoK 7th edition and what's new in the edition with explanations.
A more summarized version is given below here:
Why the change?
The PMBoK in the current editions are overly prescriptive, when set out in detail or too abstract, if covered at a high level.
What are the key changes?
The following are the key changes which you will see in the new edition:
Outcome based (in addition to Deliverables) – Outputs

Covers the entire delivery landscape

What to tailor – specific guidance given

Hybrid models introduced

A principle-based change – rather than process or knowledge areas.
As you can see above, PMP is not changing but evolving. It is still a "Framework" and still incorporates Process Groups and Knowledge Areas, but in a different way. It is a myth that PMP is turning into Agile or Agility practices but giving guidance on the entire delivery landscape including Agility. The new PMP will give specific guidance on tailoring your projects and introducing different working models. Agile was a part of PMBoK 5th edition as well and the Hybrid model was also represented in the same edition. However, it is now more focused.
Let's explore Disciplined Agile, PMI's latest offering focused on Agility
Disciplined Agile
ProThoughts is proud to be one of the 1st Premier partners for Disciplined Agile in the entire globe. ProThoughts has been very active in coming out with new content and articles on Disciplined Agile, and collaborates strongly with PMI to evangelize Disciplined Agile.
Disciplined Agile offers a journey right from adopting Agility to transforming for Business Agility. And it offers different levels of certifications to implement it for your teams and organizations.
You can refer to the details of Disciplined Agile

What's DA – Journey
Disciplined Agile offers the following journey from Level 1 – Disciplined Agile Scrum Master (DASM) to Level 2 – Disciplined Agile Senior Scrum Master (DASSM) to Level 3 – Disciplined Agile Coach (DAC) and Disciplined Agile Value Stream Consultant (DAVSC).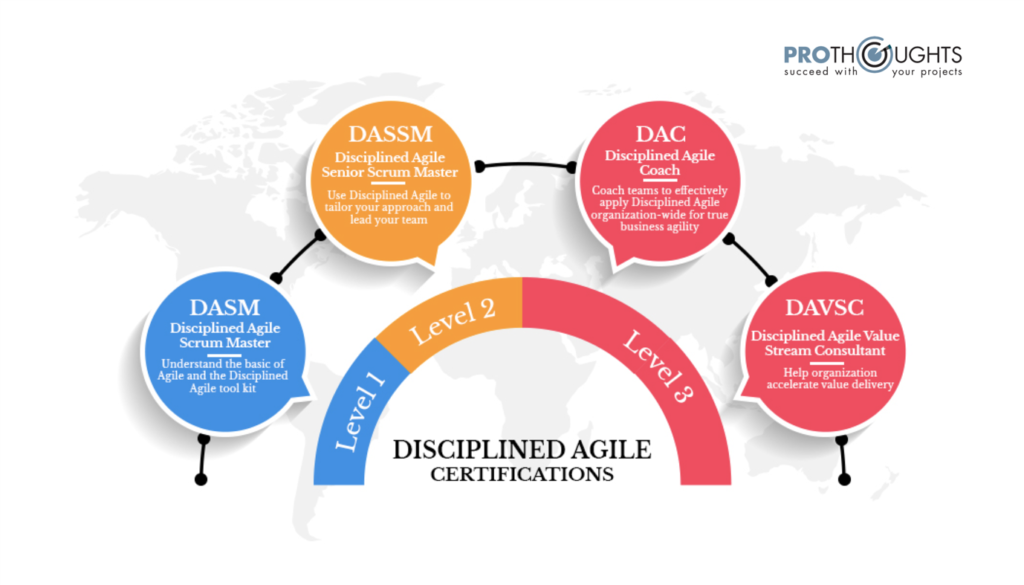 Unlike PMP®, Disciplined Agile is a Tool-kit and leverages many practices, including the many things in PMP® to offer guidance and decision-making to teams and enterprises to make Agile businesses.
Disciplined Agile is an expert for bringing Agility to your business, while PMP helps to manage your project.
You can always refer more details on PMP and Disciplined Agile on our Youtube channel & Blogs section
Let's explore the differences and similarities in a little more detail
Differences between PMP Certification and Disciplined Agile Certification: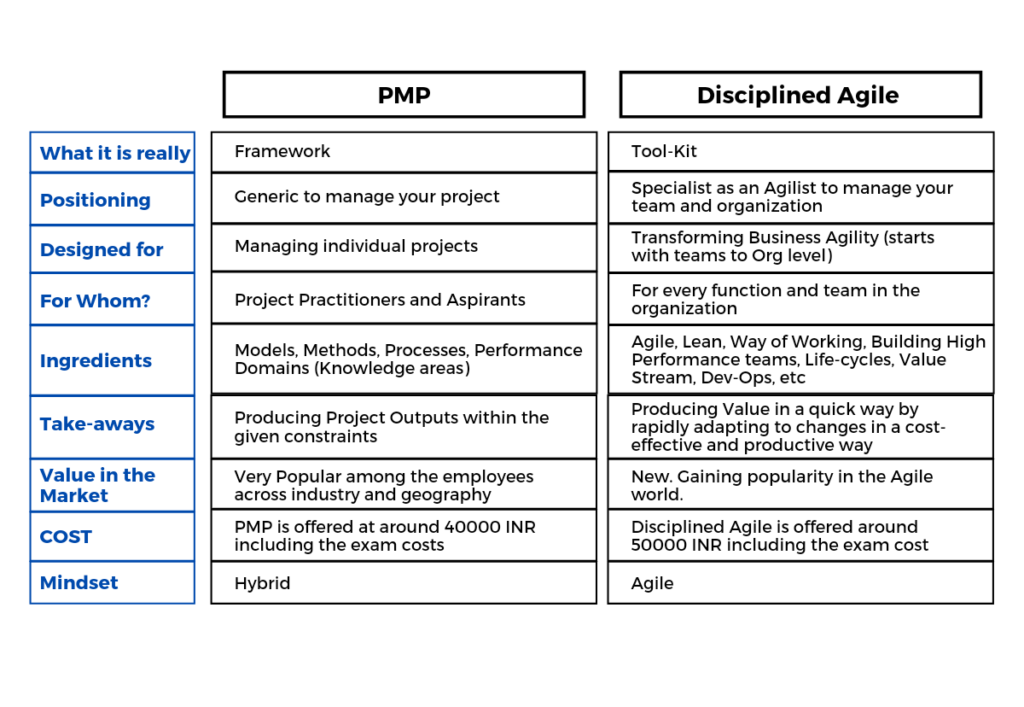 1. What is it?
PMP is a Framework, while Disciplined Agile is a Tool-kit. As per Cambridge dictionary, Framework is a system of rules, ideas, or beliefs that is used to plan or decide something Or a Supporting Structure around which something is built.
PMP certification and its content gives you the supporting structure to build your own practice or help you tailor the way you can manage the project. PMP gives you beliefs and rules to manage your project.
Disciplined Agile is a Tool-kit and therefore, gives you multiple tools or options, depending on your current context and situation. Disciplined Agile gives the multiple options by leveraging different practices and frameworks including the PMP and PMBOK to give the necessary guidance. Disciplined leverages Agile, Lean and multitude of Agile practices to help you and your teams improve their way of working.
2. Design
The PMP is designed for project managers to manage their projects and achieve project outputs. The new edition talks about Project Outcomes, which I think is very confusing and should be used with regards to Benefits and Program Management. The Project Output which is more focused on Deliverables and delivering capability is what Projects are focused on.
The Disciplined Agile is designed for teams and organizations to achieve Business Agility. And Business Agility is when the entire business pivots to produce value for the customer and not constrained to a single team. Unless all the functions and teams are agile, the business cannot be agile. Disciplined Agile is designed with its WoW (way of working) to achieve Business or Enterprise Agility. It starts with a team adopting Disciplined Agile, and slowly the organization inculcates the improved way of Working.
3. Positioning
I would say that PMP positioning is generic – applicable to all projects across the domains and geography as it is based on Project Management Standard, which in turn, is non-prescriptive and applied to all projects. Whereas, Disciplined Agile provides depth and novelty in the Agile world. It becomes the Agile specialist and I would believe that it complements PMP well. A practitioner who wants to explore Agility and become a specialist can deep dive into Disciplined Agile and in the same vein, wants to typically manage his project, PMP can be the panacea.
4. Ingredients
Both these certifications – PMP® and Disciplined Agile – are knowledge intensive and with able guidance, participants feel delighted at the end of the training. Some reviews from our batches might help you to get an idea. The content is superior and there is a lot to learn and even unlearn, and more importantly to apply in real-life situations.
For example, PMP is going to focus on various methods and models, which at the core are Process Groups (erstwhile) and Performance Domains (the Knowledge Areas) and give tailoring guidelines for your project. Further, different models including Hybrid models are suggested as part of the guidance.
Disciplined Agile provides a lot of breadth and is an incredible combination of Lean, Agile and Disciplined Agile. It covers a lot of important stuff from varied Agile practices and has strategies and guidance not only for your project team of IT, but for all functions in the organization so that high value is delivered in the best optimum way.
5. Take-Aways
The take-away and the focus of doing a PMP certification is to how to deliver your projects within your constraints and meet your customer's expectations.
The take-away of Disciplined Agile is to set on a journey of Agile Adoption and Transformation for your team and organization to produce value in the best optimum way.
6. For Whom
The PMP certification is for Project Aspirants and Practitioners and Experts, across the domains and geographies.
The Disciplined Agile certifications are for a broader universe – it is for everyone as all are involved in delivering value to the customer. So not only project teams, who are primary adopters of this certification and instrumental in building the solution, result or product or service but also the other functions such as Operations, Support, Marketing, Sales, Procurement, Legal, Finance, etc…whoever is involved in delivering value to the customer.
7. Value in the market
The PMP certified professionals are valued highly by many employers across industry and geographies. It is regarded as one of the apex certifications and a standard to manage your projects. In fact, in some organizations, it is a must have credential to manage a project. The PMP certification often acts as a catalyst to obtain a job and boost your career.
Disciplined Agile is a new and novel proposition among the multitude of Agile knowledge and certifications. The fact that PMI is promoting it gives it enough credibility to be accepted by apex industry players. It does have great content and as we are writing, many top leaders and organizations have started adopting Disciplined Agile. For sure, the value of Disciplined Agile is going to rise and demand is going to increase in the near future.
8. Cost
The PMP certification cost differs from region to region and varies quite considerably. For example, ProThoughts is considered a premium provider in the India market due to its superior content, methodology, delivery and support. However, on average, the PMP certification can range from INR 40000 including the examination cost and Disciplined Agile comes on average of INR 50000 including the exam. For other regions, the PMP certification and Disciplined Agile costs can go upto USD 1000 as well.
You can check out the best offers on certification courses here.
9. Mindset
The mindset plays an important role while adopting Agile. There have been numerous instances where many teams and organizations have adopted Agile ceremonies but still manage the projects in Waterfall mode. The mindset has not transformed into Agile yet. For Disciplined Agile, the mindset is a foundation "View" or a foundation block. The mindset has to be Agile and it has to be on some set principles and guidelines.
The PMP certification in its newest Avatar has also come out with set principles to develop a hybrid mindset.
Closing Thoughts:
The PMP and Disciplined Agile are arguably the best and relevant certifications from PMI. PMI as a global body does extensive research on what are the gaps in the current, near and even far future, and develops standards and certifications to fill in those gaps.
PMP certification is the rock by many stands, and gets evolved over the years. Disciplined Agile is introduced by PMI to fill in the gap to make enterprises Agile.
Both these certifications have their own set purposes and are distinctly different in content, approach and outcome.
We feel both are integrated offerings and complement each other pretty well.
PMBoK 7th edition was planned many years in advance and Disciplined Agile was bought as a well thought strategy in 2019 to give organizations Agility and fill in that gap.
PMP was always a winner for PMI, and Disciplined Agile has a refreshing approach to bring Agility in organization. It can prove to be a winner with its content. But we all know, as project managers, the execution is the key for a successful output and an outcome. And we should see how Disciplined Agile spans out in a year or so. So far in a year, it has shown a good promise.
Trust this article has enlightened you on PMP and Disciplined Agile – the top certifications from PMI.
Please let us know your comments and suggestions. And we too constantly evolve and update our articles and blogs. Your comments are most welcome to have an engaging conversation.
You can write to [email protected] as well.
Trust you like our attempt.

Name
Date & Time
Online
May Batch (4 Days – Weekend) – PMP Online


20th, 21st, 27th & 28th May 2023
9:00am to 6:00pm, IST
Know More
June Batch (4 Days – Weekend) – PMP Online


17th, 18th, 24th, 25th June 2023
9:00am to 6:00pm, IST
Know More