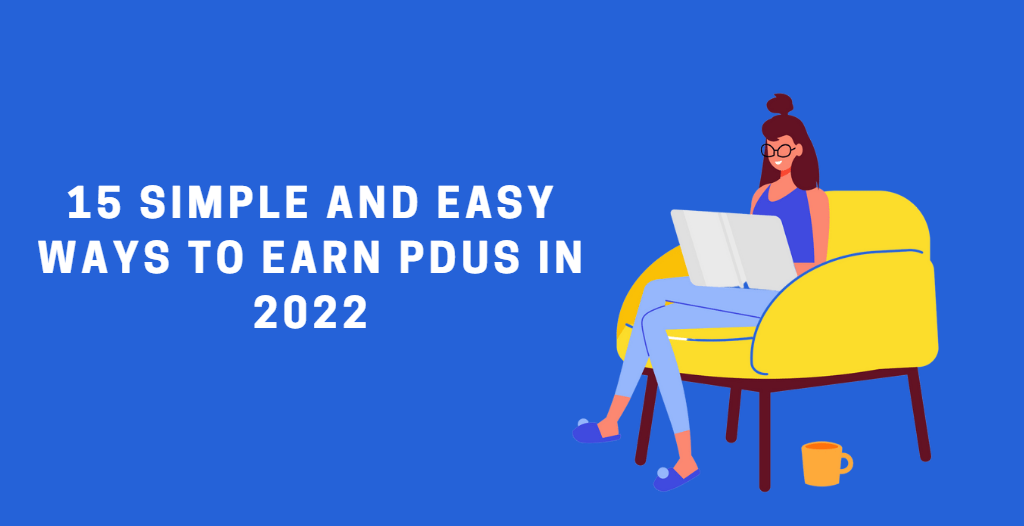 What exactly are PDUs?
PDUs (Professional Development Units) are one-hour chunks of time spent learning, teaching, or volunteering. You can keep your PMI certification status by accumulating and tracking these throughout a three-year period.
The amount of PDUs required for maintenance varies depending on the certification. All of them, however, have a three-year renewal cycle. Every three years, you must obtain 60 PDU (Professional Development Units) after achieving your Project Management Professional (PMP)® credential. Although it would be wonderful to believe that we're all on top of things on a regular basis and that by the time the deadline rolls around, we'll have paperwork to support our educational efforts, this rarely happens. The most straightforward way to earn PDUs is to use what you already do.
In the spirit of assisting you in accumulating continuing education credits, here is a list of other PDU-eligible activities that can assist you in maintaining your professional credential:
Following are some simple and easy ways to Earn PDUs Which you can consider.
Your regular job (PDU Category 2H)
If you're a project manager, this is probably the most convenient way to earn up to a quarter of the PDUs you'll need at the end of the recertification cycle. You can claim up to 5 PDUs every year if you practice project management services for at least 1,500 hours in a calendar year, for a total of 15 PDUs over a three-year period.
Take a quiz to test your knowledge! (Category 3 PDU)
Did you know that taking PMI publishing quizzes can help you earn up to a third of your PDUs? Each quiz costs only $15 for members. If you get a 70% or more, you'll get one to two PDUs, depending on your score. on the specific quiz and the CCR criterion, you're attempting to meet. This is one of the primary ways through which you can earn PMP PDU.
Watch a Film
Project Video: A Practical Application of the PMBOK Guide — Fourth Edition is a movie that delivers 15 PDUs to your home via the internet. It costs $500 to PMI members and is accessible through PMI.org. I didn't claim it was inexpensive. I simply stated that it was simple.
Formal Education and Training (PDU Category 1)
Formal academic project management education courses can earn you 10 to 15 PDUs per semester. It's arguably the most straightforward of all the categories, as long as you're not short on cash. Even if you are, community colleges may provide project management-related courses that are significantly less expensive than four-year institutions or "executive"-style programs confirmation requires the transcript or grade report.
Converting CEUs to PDUs (PDU Category 1)
Continuing education (CE) can be used to earn PDUs in the same way that regular academic training can. CEs, as contrast to conventional academic training, are courses that meet the standards of the International Association for Continuing Education and Training (IACET). PDUs can be converted from CE Units at a ratio of one CEU to ten PDUs. Your best bet is to check with the provider to see if the course you're considering meets the ANSI/IACET 1-2007 Standard.
Service to Professional or Community Organizations as a Volunteer (PDU Category 5)
You can earn up to 1 PMI PDUs for the presentation if you have already attended your PMI chapter's monthly meeting. Did you know that by joining the registration, finance, internal marketing, and/or meeting committees, you might earn more PMI PDUs for attending the same meeting? For additional information, contact your local chapter. Professional service or delivering non-compensated professional PM service to non-employer or non-client customer groups can earn up to 20 PDUs.
Knowledge Transfer (PDU Category 2)
You can earn 30 PDUs for the primary author and 20 PDUs for the co-author if you write or co-author an article that is published in a "refereed" journal. You can earn 15 PDUs for the author and 10 PDUs for the co-author if you publish in a non-refereed publication, such as on MPUG.com.
Self-Assessment (PDU Category 2-SDL)
Through self-directed learning, discussions or coaching sessions with colleagues or customers that employ educational materials such as CD-ROMs, articles, books, films, or instructional manuals can earn up to 15 PDUs over a three-year period. Personal project management research or a study, as well as coaching sessions with persons in your professional network, are examples of this (such as colleagues, clients, and co-workers). This includes reading relevant papers, books, blogs, and listening to audiobooks, among other things. For confirmation, copies of publications, sample instructional materials, or program agendas are requested.
It's time for PDUs to go (PDU Category 3)
PDUs can be earned by listening to a rising number of podcasts on your MP3 player. Simply ensure that the podcast producing firm is a PMI Registered Education Provider (REP). Then, to comply with PMI criteria, submit evidence such as a registration form, certificate, or letter of attendance. So, what do you have to lose? Regardless of your budget or preferred learning medium, if you start this week, you'll have earned the 60 PDUs you'll need to keep your title for another three years. Whatever path you choose, keep in mind to leverage your current activities and be as consistent as possible.
Participate in MPUG meetings and maintain your MPUG membership!
(Categories 2, 3, and 5) This PDUs You can keep track of your credits by attending Web Learn sessions or chapter activities, volunteering as a chapter officer, producing articles for the website, or making presentations to share your knowledge with others. In fact, MPUG has been dubbed one of the most cost-effective ways to earn A PMP PDU.
PDUs That Follow You Around (PDU Category A)
Monthly webinars from a variety of presenters are delivered to your own media player via the PDU Podcast. Professional Development Units can be earned whenever and anywhere you wish. You can earn as many Category A PDUs as you want from The PDU Podcast. With fresh content sent routinely and dependably month after month, a single subscription keeps you on track.
Develop new project management skills (PDU Category D)
There's a lot you can do to earn PDUs in this category. Authoring or co-authoring articles, books, or newsletters, hosting a webinar or podcast, or developing and presenting a project management course are all possibilities. You'll get PDUs for each one. The rule is that one PDU is equal to one hour spent planning and delivering these activities. The 45 PDU maximum for categories D, E, and F is applied to the PDUs claimed in this category.
Webinars are available both live and on-demand
The PMI recognized a few years ago that the learning landscape had vastly expanded to include thousands of relevant, topical, and expert-led (and free!) webinars on topics ranging from bringing order to the chaos of professional services delivery to project management in a business agile environment, and so on. Within the defined CCR programme parameters, one hour of learning equals one PDU. Remember to keep supporting documentation on hand in case the PMI requests them (e.g. email confirming your attendance, screen capture, etc.). Click here to see a list of Clarizen's live and on-demand webinars and earn PDUs while you're at it.
Knowledge creation in project management
If you want to earn Category D PDUs, write or co-write newsletters, articles, whitepapers, books, or magazines about project management to get new expertise. You can earn one PDU for every hour you spend preparing and delivering such activities, whether it's through webcasts, podcasts, or the presentation of project management courses. It's important to note that PDUs earned in this category contribute against the 45 PDUs you're allotted in categories D, E, and F.
PDUs for PMPs that are paid
Paid PDUs have a number of advantages to free PDUs, including:
You'll earn one unit from one resource, report it to the PMI, and then go back to the free options to find the next PDU. Paid courses, on the other hand, allow you to earn all of them at once and report to PMI.
PaidPDUs allow you to master new skills like Six Sigma, communication strategies, and MS Project, among others. In general, free PDUs do not teach you in-depth topics.
Paid PDUs off one stop shop for all of your needs, whereas free PDUs need you to travel around and keep track of your own requirements.
Conclusion:
It's simple to get 60 free PMP PDUs and renew your PMP certification. These PDUs are crucial to your professional advancement. It is recommended that you gain PDUs if you are a PMP. You can do this by learning new skills, sharing your expertise, volunteering, and doing anything else that will help you advance in your profession. Completing the PDU criteria for your certification renewal will be simple with a sound plan and consistent accumulation.